Trending Now
Big Ten Commissioner Kevin Warren: 'Without a Doubt' Ohio State Deserves to be in CFB Playoff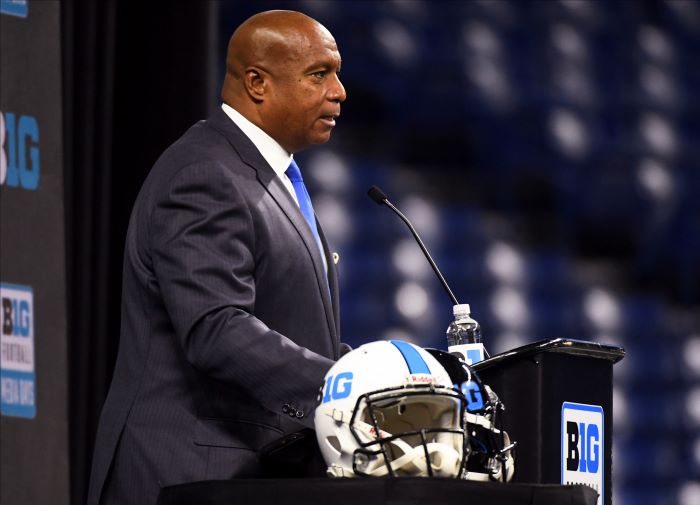 Big Ten commissioner Kevin Warren went into full campaign mode after Michigan's dominant beat-down of Ohio State on Saturday afternoon.
The Wolverines, the nation's No. 3 team, beat the Buckeyes, the No. 2 team, 45-23. It was Michigan's second straight win in the rivalry — after eight straight losses. Plus, it was the first time that the Wolverines (12-0) won in Columbus since 2000.
The Buckeyes (11-1) will have to watch as Michigan takes on whoever wins the Big Ten West Division next week in Indianapolis, a game the Wolverines will most likely win and clinch a berth in the College Football Playoff.
But hold everything. Warren things two Big Ten teams should be heading to the CFP, despite the lopsided result of Saturday's game.
"One hundred percent," Warren told ESPN. "Clearly, Michigan and Ohio State are two of the best four teams in the country, and I think today proved it. Great football game. Epic football game. Without a doubt, I think they are clearly two of the best football teams in the country."
Yes, it was an epic game, if you enjoyed watching Michigan outscore Ohio State 28-3 in the second half in front of a sold-out Ohio Stadium.
For reference, as Warren said this, Georgia was taking care of business against Georgia Tech to clinch its undefeated regular season, and TCU was well on its way to blowing out Iowa State to put together its own undefeated season. Sure, both the Bulldogs and the Horned Frogs, like the Wolverines, have one more game left. But, assuming all three teams take care of business next week, they'll be in the playoff, with one spot remaining.
If Saturday's loss is the last impression the Buckeyes leave with the CFP committee, Warren and the Buckeyes may be grasping at straws come next Sunday.
You can find Matthew Postins on Twitter @PostinsPostcard