Big 12 News
Bijan Robinson Gives Update on His Future at Texas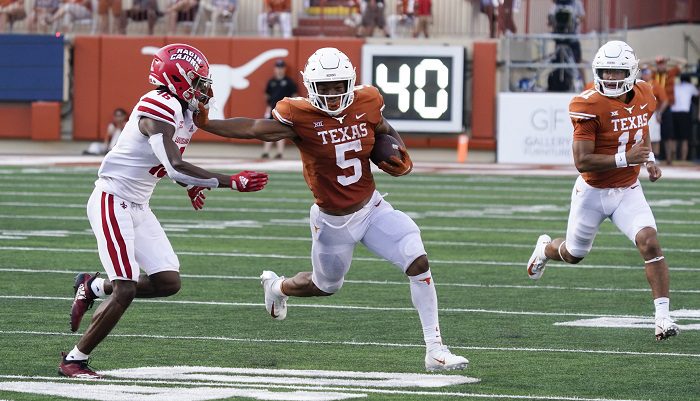 One of the biggest questions in college football after the 2022 season will be whether or not Bijan Robinson returns to the Texas Longhorns for the 2023 season.
After the win over Baylor on Friday, Robinson was asked about his future at Texas, to which he said he's still undecided about declaring early for the 2023 NFL Draft, and that he tells those who ask about his lack of a decision, "God had a plan for me to be here."
During the broadcast on ESPN on Friday, former Heisman winner Robert Griffin III gave his opinion on BIjan's future, to which he said, "Pre-NIL, Bijan should leave. As a running back, you don't want to keep getting all that pounding on your body before you go to the NFL."
"But, with NIL in place, if I'm Bijan, I'm saying, 'Texas make me an offer so I have to come back. Give me $6-7 million in NIL money and NIL opportunities, so I don't have to go pro and these fans can get another year of Bijan Robinson.' Because he's worth it."
Given Robinson's enormous success in three years of college and the high-risk position of running back, it's hard to see how he turns down being a likely first round pick in the 2023 NFL Draft, but as RG3 alluded, the NIL game has completely changed the decision-making process for the top college football players.
Texas wrapped up its regular season with an 8-4 record and still has a chance of reaching the Big 12 Championship Game. The Longhorns need Kansas to upset Kansas State on Saturday night and they will earn a trip to Arlington next weekend to face TCU for a Big 12 title.