Big 12 News
Bijan Robinson: 'I'm Officially a Kansas Fan'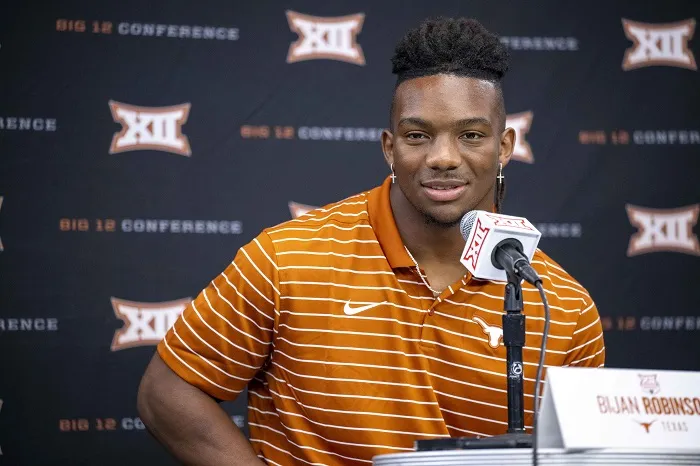 After Texas beat Baylor 38-27 on Saturday in their season finale, the Longhorns did what they had to do to keep themselves in the Big 12 Championship race. But now they need some help.
For Texas to make the Big 12 Championship Game, they'll need Kansas to upset Kansas State on Saturday night in Manhattan.
So obviously, Longhorn Nation has a stake in the game on Saturday. And star running back Bijan Robinson made that clear after the Baylor game, saying, "I am officially a Kansas fan".
The Longhorns are two weeks removed from crushing Kansas in Lawrence 55-14, but now they need the Jayhawks to do them a solid to help put UT into the Big 12 Title game next week in Arlington, Texas against TCU.
The Horned Frogs have already punched their ticket to the Championship Game as they sit at 11-0 overall and 8-0 in league play ahead of their regular season finale against Iowa State. But for TCU, the stakes are larger as they are two wins away from making the College Football Playoff.
If the Horned Frogs are able to reach the 13-0 mark, they will be the first Big 12 team not named Oklahoma to make the College Football Playoff.
Since the Big 12 Championship Game returned in 2017, the Longhorns have reached the title game once, in 2018, when they lost to Oklahoma. TCU made the title game in 2017, but also lost to Oklahoma. And for K-State, the Wildcats have yet to make the Big 12 title game since it's comeback.