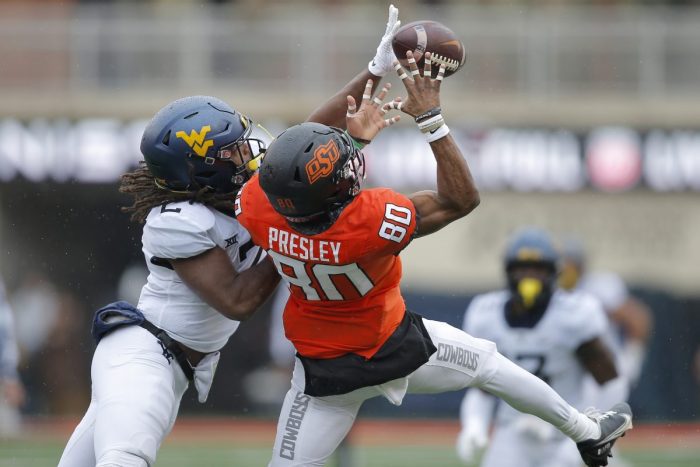 It's the final week of the regular season in college football and in Stillwater, Oklahoma, it was a match up between two teams who did not meet their expectations for the season. West Virginia was playing its final game of the season after missing a bowl game following their seventh loss of the season last week against K-State, while the Cowboys came in having lost three of four games, including last week's Bedlam match up.
On a gloomy, rainy Saturday in Stillwater, the crowd was sparse, and as was the football mediocre. But we may have gotten a glimpse to the future in the Big 12.
Here are three thoughts on West Virginia's 24-19 win over Oklahoma State.
1. Future Big 12 QB Battle to Watch?
Oklahoma State started true freshman Garret Rangel at quarterback due to the injury to Spencer Sanders. Meantime, West Virginia went with true freshman Nicco Marchiol in the second half. Rangel came out of Frisco, Texas as a four-star prospect, according to 247Sports. Meantime, Marchiol is also a four-star true freshman quarterback from Chandler, Arizona, according to 247Sports.
Rangel started and finished 18/42 for 178 yards, zero touchdowns and no interceptions. The stat line doesn't tell the whole story, as Rangel showed flashes at times, and towards the end of the game he was throwing deep passes in the rain to try and pick up big chunks of yards with the Pokes needing a touchdown. Marchiol only played the second half and went 2/9 for 29 yards, with six carries for 32 yards.
Neither look like the next Heisman winner, but as noted, the weather made it challenging. I expect both to potentially be starters in this league come the 2023 season.
2. Welcome to the Big 12, Jaylen Anderson
Many in Morgantown wondered when Jaylen Anderson might break out. The four-star prospect came in as a part of the 2021 class and 247Sports ranked him as the No. 6 best all-purpose back in the country and No. 9 overall recruit in Ohio. Coming into this game he had a total of 120 rushing yards on the season. Well on Saturday in rainy Stillwater, he went off.
Anderson finished with 15 carries for 155 yards and two touchdown runs. Anderson's first touchdown run was a 54-yarder and put WVU up 14-10 in the third quarter and then on the very next drive, he ripped off a 57-yard touchdown run for a 21-10 lead that the Mountaineers would never relinquish.
The thought of WVU's two-headed monster in 2023 being Anderson and C.J. Donaldson, who didn't play in November following surgery an undisclosed injury, could be scary for the next couple of years in the Big 12. At the time of his injury, Donaldson led the Mountaineers in rushing yards (526), rushing yards per attempt (6.0) and rushing touchdowns (8).
3. Oklahoma State's Season Ends With a Whimper
The Cowboys were 6-1 to start the season ranked in the Top 10. Then, they got ripped by 48-0 by Kansas State and then ended the season losing four of five games. And each of the four losses, to Kansas State, 37-16 to Kansas, the disappointing 28-13 Bedlam loss and now WVU, were pretty ugly. From 6-1 to 7-5 is a disappointment by anyone's standards in Stillwater.
The Cowboys go into the offseason (after their bowl game) with arguably more questions than answers. The defense showed some improvement, but still had big holes this season, the offensive line was a mess, which of course impacted the running game dramatically.
At quarterback, Spencer Sanders could return in 2023, but based on what Mike Gundy said this week, it seems like Sanders is gone and they'll have to turn over a new leaf at the position.
4. Neal Brown's Future
There was a report from ESPN earlier this week that said Neal Brown was "likely" to return for the 2023 college football season. Now, Brown and the Mountaineers wrapped up the season with two wins in their final three games, and their two wins against Oklahoma and Oklahoma State were as big underdogs (more than a touchdown).
Is that enough to save his job? Was it ever in serious danger? WVU has to still hire a new AD after firing Shane Lyons, but with the Early Signing Period in mid-December and a Top-35 recruiting class coming in, that, along with these two wins, and a buyout pushing $20 million, might be enough to keep Brown in Morgantown at least one more season, despite a 22-25 record in four seasons.