Big 12 Previews
Big 12 Championship Preview and Prediction: Kansas State vs. TCU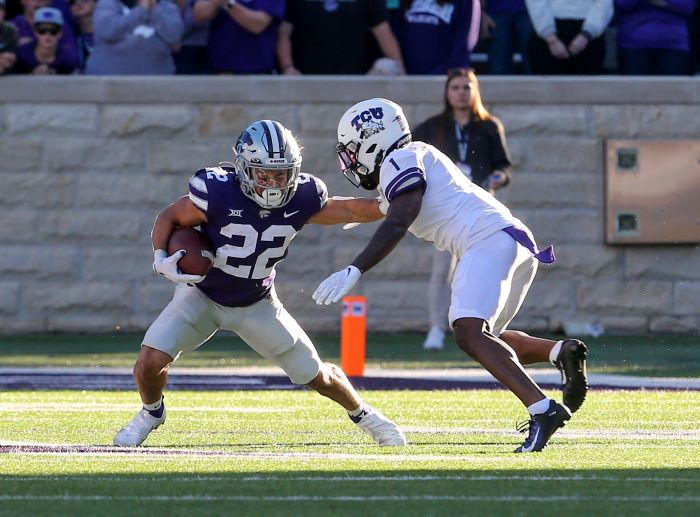 Here is everything you need to know about the Big 12 Championship Game between the Kansas State Wildcats and the TCU Horned Frogs.
GAME INFO
Saturday, December 3, 2022; 11:00 a.m. CT; AT&T Stadium; Arlington, Texas
TV: ESPN (Chris Fowler, Kirk Herbstreit, Holly Rowe)
Radio: K-State Sports Network (Wyatt Thompson, Stan Weber, Matt Walters; Horned Frog Sports Network (Brian Estridge, John Denton, Landry Burdine)
Records: Kansas State (9-3, 7-2 Big 12); TCU (12-0, 9-0 Big 12)
Rankings: Kansas State ranked No. 12 (AP Top 25); TCU ranked No. 4
Last Week: Kansas State 47, Kansas 27; TCU 62, Iowa State 14
Series History: Series tied 8-8
Last Meeting: TCU 38, Kansas State 28 (2022)
Favorite: TCU (-2.5)
Fun Fact: No team has ever won more than three consecutive meetings in this series, with TCU winning from 1984-1986 and K-State carrying in a three-win streak against TCU from 2019-2021 and lost this year's meeting 38-28.
KEY PLAYERS
KANSAS STATE WILDCATS
QB Will Howard
In five games of action, Will Howard has been wildly efficient for the Wildcats' offense. The junior signal-caller has completed 83 of 132 (62.9%) passes for 1,224 yards, 13 touchdowns, and two interceptions. His first game of meaningful action was against TCU, but this time around he will have much more experience this time around. In their last matchup, Howard went 13-20 for 225 yards, two touchdowns, and one interception, adding nine rushes for 31 yards and a score.
DE Felix Anudike-Uzomah
One of the best pass-rushers in the country, K-State's Felix Anudike-Uzomah was held mostly in check against the Horned Frogs, recording just five tackles on the day. However, the second time around, Anudike-Uzomah hopes to have a bigger impact on the game. The junior pass rusher has recorded 7.5 sacks and two forced fumbles in 2022 and will hope to add to that total against Max Duggan and a potent TCU offense.
TCU HORNED FROGS
QB Max Duggan
One of three Heisman contenders left in 2022, TCU quarterback Max Duggan has been fantastic for the Horned Frogs and has been a major reason for their success this year. Duggan has thrown for 3,070 yards and 29 touchdowns while completing 66.6% of his passes in 2022, adding 294 yards and five scores on the ground. Last week against Iowa State, Duggan has one of his most efficient days of the year, completing 17 of 24 passes for 212 yards and three scores in a 62-14 rout.
The "Hodges"
When you look at the TCU defense, its all about the "Hodges": LB Johnny Hodges, LB Jamoi Hodge, and CB Tre'Vius Hodges-Tomlinson. The linebacker due of Hodges (76 tackles) and Hodge (65 tackles) make up two of the top three tacklers on the team and account for nearly 19% of TCU tackles on the year. The two have also combined for 6.5 sacks and one interception on the year. Meanwhile, Hodges-Tomlinson co-leads the team with three interceptions and 10 PBU's and will be busy against the TCU wide receivers.
KEY STORYLINES
KANSAS STATE WILDCATS
Can the Wildcats take advantage of their second chance and beat TCU for the conference title? Nobody has managed to take down the Horned Frogs yet this season, yet it feels like this game might be a tossup. K-State running back Deuce Vaughn presents a unique challenge and will hope to build on his 12 carry, 83-yard performance against the Frogs earlier in the year.
TCU HORNED FROGS
Can TCU get to 13-0 and guarantee their spot in the College Football Playoff? While there has been talk that TCU might get in even if it loses, I'm not buying it. The Horned Frogs are from the Big 12 and their name isn't Texas or Oklahoma, so they aren't getting the benefit of the doubt from anyone, regardless of how good they've looked. As wrong as it is, that's the world we live in. Win and get in, lose and leave it in the committees' hands to do what they've already done once before: leave a one-loss TCU team on the outside looking in.
PREDICTION: TCU 38, KANSAS STATE 34
While it is closer than many would've liked, I think TCU is able to sneak out of Arlington with a narrow victory and lock themselves into a College Football Playoff semifinal. Now, don't get discouraged K-State fans, the Sugar Bowl is likely your destination with a win or a loss, so you will get a chance to go 2-0 against the SEC in the same season. That, if nothing else, is a reason to be excited for what comes next. As for TCU, a date with Michigan seems likely, and that is a game that the Horned Frogs have more than a fair shot at winning.