Baylor Bears
Big 12 Football Championship Week Power Rankings: TCU, K-State Separate From the Pack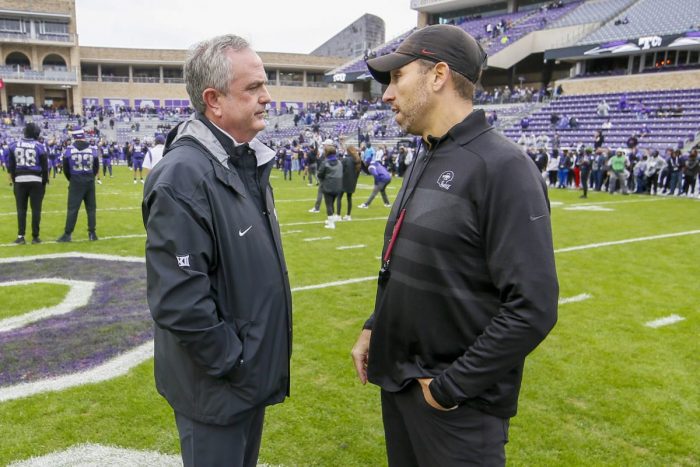 The 2022 college football season wrapped up the regular season on Saturday. There were five games this week, with Texas beating Baylor 38-27, West Virginia got by Oklahoma State 24-19, TCU crushed Iowa State 62-14, Texas Tech got by Oklahoma 51-48 in overtime, and Kansas State rolled Kansas 47-27.
So now it's time for our Big 12 Power Rankings. Here's a reminder on how I've done this for years: It's about how your team looked and how it played, not always about if your team won or lost. And last week's rankings have little impact on this week's. That's what makes this fun. These are also not predictions for the way the season will end, just a Power Rankings based on the most recent performances.
1. TCU Horned Frogs (Last Week: 1)
It was absolute domination for TCU in the regular season finale against Iowa State rolling to a 62-14 win. It was reminiscent of the 55-3 thrashing TCU gave Iowa State back in 2014, but of course we know how that season ended, with TCU falling from No. 3 to No. 6 and missing the CFB Playoff. But now, there's a Big 12 Championship Game. Win and the Frogs are in.
2. K-State Wildcats (Last Week: 2)
The Wildcats are also heading to the Big 12 Championship Game and could crack the Top 10 come this week's CFB Playoff Top 25 rankings. K-State is playing some of the best football in the country right now after closing the season with three-straight wins against Baylor, West Virginia and Kansas. Will Howard has made this team better than having Adrian Martinez at QB and it's paying off at the perfect time.
3. Texas Longhorns (Last Week: 3)
Well, Texas did what it had to do on Friday in beating Baylor to keep itself in the Big 12 Championship race. But the Longhorns did not get the help they needed from Kansas on Saturday night in Manhattan. Overall, 8-4 is a big improvement for Year 2 under Steve Sarkisian and he has more to build on as the program moves forward.
4. Texas Tech Red Raiders (Last Week: 4)
You've got to hand it to Texas Tech. This team is gritty and fights, something it feels like we have not been able to say about Texas Tech in quite some time. Closing the season with a defensive battle against Iowa State in Ames and then a shootout against Oklahoma shows that Joey McGuire has taught his team in just one season how to win games in different ways, which is what the best of the best do. The future is bright in Lubbock.
5. Baylor Bears (Last Week: 5)
Baylor lost its final three games of the season, but it was a brutal stretch against K-State, TCU and Texas. Still, this is a letdown of a season for Baylor after winning the Big 12 Championship Game last season and bringing back many key players, including a quarterback in Blake Shapen who won them the title game. It also proves what a gauntlet the Big 12 has become.
6. Oklahoma Sooners (Last Week: 6)
Well, this was a disappointment. OU blew another double-digit lead, as OU led 24-6 with six minutes until halftime and then lost to the Red Raiders 51-48 in overtime. It's not just that OU lost, it's how OU lost, that is a huge letdown and disappointment. Brent Venables deserves some grace given what he walked into, but given he still has the second-most talent in the league after Texas, 6-6 is unacceptable.
7. West Virginia Mountaineers (Last Week: 9)
You've got to hand it to Neal Brown and the Mountaineers, closing the season with two wins in three games to finish 5-7. They aren't going to a bowl game, but did Neal Brown save his job for 2023? With each passing day it looks more and more possible. It's fair to criticize Brown's tenure, but also realize maintaining a Top 35 recruiting class is a must right now for the future of the program.
8. Kansas Jayhawks (Last Week: 8)
The Jayhawks began the season 5-0 but ended the season losing six of their last seven games. They're bowl eligible for the first time since 2008, which is an enormous improvement beyond what anybody anticipated to start the season when the over/under win total was 2.5. But, there's no denying these last few weeks were tough, especially on defense, as KU gave up 140 points combined the last three weeks.
9. Oklahoma State Cowboys (Last Week: 7)
The Cowboys were No. 9 in the country just a few weeks ago. Now they're at No. 9 in our Big 12 Power Rankings. Yikes. A few weeks ago, they got ripped by 48-0 by Kansas State and then ended the season losing four of five games. And each of the four losses, to Kansas State, 37-16 to Kansas, the disappointing 28-13 Bedlam loss and now WVU, were pretty ugly. From 6-1 to 7-5 is a disappointment by anyone's standards in Stillwater.
10. Iowa State Cyclones (Last Week: 10)
If I could put Iowa State at No. 11, I would. But I can't. Their 62-14 loss to TCU was as terrible of a performance as the Cyclones have put forth in the Matt Campbell era. It was embarrassing. The season is over and now it's time to go back to the drawing board.