Baylor Bears
Big 12 Men's Basketball Week 3: The Good, the Bad and the Ugly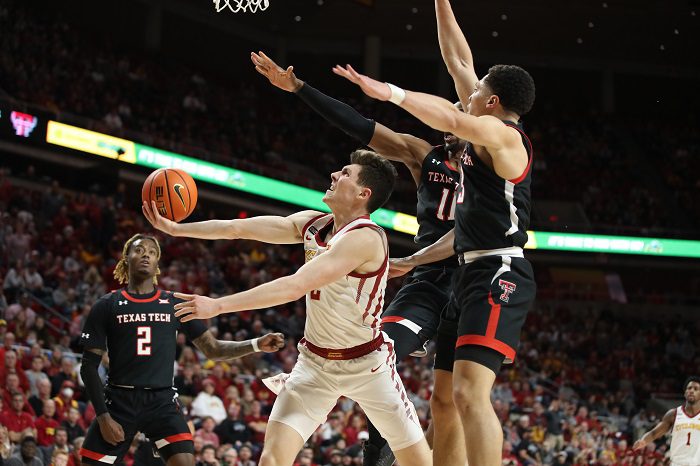 The third week of Big 12 men's basketball saw some great games and a couple of upsets. Here is this week's Good, Bad and Ugly from the third week of the season.
Don't forget about our new feature for men's basketball — Daily Fantasy Lineups. Every night a Big 12 team is part of the Draft Kings pool, I'll provide my picks for the game, along with my complete lineup. The hope is that by Big 12 play I'm able to put together a full Big 12 lineup during conference games. Here are the links to our piece on the Iowa State and West Virginia games on Sunday.
The Good
Iowa State, Built to Last
This is the program Iowa State coach T.J. Otzelberger wants — one that is built to last.
That's hard to do in the transfer portal era. Iowa State lost plenty of talent, including Tyrese Hunter to Texas. But Oztelberger imported some talent, including guard Jaren Holmes.
How's it going, T.J.?
Moments like this are why you don't miss biceps day in the gym, am I right?
The Cyclones' five-point win over North Carolina was the program's third all-time over a No. 1 team, and the first outside of its conference. Regardless of what happened against UConn on Sunday — and the Cyclones lost — Otzelberger is proving to be the right coach for the moment at ISU. It's not just his ability to curate talent from the transfer portal. It's also his recruiting acumen, as he just signed a Top 10 class.
John Walters at Cyclone TV pointed this out, too.
ISU beat Villanova earlier in the week. And the Cyclones gets Kansas twice in league play.
Iowa State may not be the 'darling' it was last year, but you can only be the darling once. Then, you have to sustain it. Remember when Gonzaga was that 'darling?' Eventually the Bulldogs found a coach that could sustain it in Mark Few.
Otz is looking like that coach in Ames.
Kansas State, Built to Surprise
Speaking of 'darlings,' Kansas State is playing the part his year. There were plenty of questions about this program. New head coach in Jerome Tang. Just two returning players — not returning starters — returning PLAYERS. A key transfer in Keyontae Johnson who hadn't played in nearly two years after collapsing on the court.
The Wildcats went to the Cayman Island and played like they were cleaning out their offshore accounts, beating Rhode Island and Nevada before facing LSU in the final. Then the Wildcats did this to claim the title at the Cayman Islands Classic.
Plus, one of those holdovers from a year ago, Markquis Nowell, had company the next morning (it's not what you think).
The Wildcats' start is eerily similar to Iowa State's last year, with a run at a holiday tournament keeping the Wildcats undefeated. Kansas State has a half-dozen games left, and there's a path for the Wildcats to duplicate Iowa State's 12-0 start before Big 12 action. But there are tough opponents ahead — Butler, Wichita State and Nebraska included.
But it's clear Tang has quickly built a team that can compete in the Big 12.
Bob Huggins, Built to Move Up
When West Virginia dominated Portland State on Friday night in Oregon, Mountaineers head coach Bob Huggins won game No. 921, putting him in third place all-time among Division I coaches. Syracuse's Jim Boeheim and Duke's Mike Krzyzewski are significantly ahead of Huggins. But, the newly-minted Hall of Famer has several years left on his contract and still has a desire to try and bring a title home to West Virginia.
Plus, he left us with one of the best images of the week, a coaches photo at the Phil Knight tournaments out in Portland. It just says, 'I'm here so Phil Knight doesn't fine me,' doesn't it?
Mike Miles is Back
After missing a couple of games due to injury, Horned Frogs guard Mike Miles returned to the court during TCU's trip to Florida for the Emerald Coast Tournament. Miles came off the bench to score 23 points and have a career-high nine rebounds in the Horned Frogs' 59-48 win over Cal. Then TCU beat ranked Iowa in the final to win the event.
TCU should get guard Damion Baugh back this coming week after his six-game suspension for briefly signing with an agent last spring. The bad news is that forward Emanuel Miller missed most of the tournament with a back injury. He's considered day-to-day.
Oklahoma Bounces Back
The Oklahoma Sooners have officially bounced back from their embarrassing season-opening loss to Sam Houston after winning the ESPN Events Invitational in Orlando. During the event the Sooners beat three Power 6 teams, including sending Ole Miss to its first loss of the season in the championship game.
It was more than enough to get the Sooners excited after taking the title. Grant Sherfiled was the MVP and got a little face time with ESPN's Dick Vitale.
Matthews' Milestone
One West Virginia Mountaineer hit four digits during their visit to the west coast last weekend.
The Bad
Kansas' Winning Streak Ends
It's hard to punish Kansas too much for losing a game when the Jayhawks have challenged themselves so far in non-conference. But the Jayhawks' 64-50 loss to Tennessee in the Battle 4 Atlantis Final ended a 17-game winning streak for them. The last loss Kansas absorbed was on March 1 against TCU, a 74-64 defeat, in Fort Worth.
From there, the Jayhawks won the final two regular-season games, the three games in the Big 12 Tournament and then the six games needed to win their sixth national championship. Kansas also won its first six games of the season. Kansas' 50 points was its fewest in a game in eight years, so that's something to watch.
So, it's certainly not time to push the panic button. But, both of Kansas' wins at Atlantis were close, and the Jayhawks needed an unlikely hero to win it in overtime against Ohio State.
Bobby Pettiford is now out for a couple of weeks due to a hamstring injury, per coach Bill Self.
But, you have to love the camaraderie between the two Kansas programs. The Kansas women were watching the end of the men's game against Ohio State on their bus before heading to their Thanksgiving Tournament in California.
The Ugly
Texas Tech's Trip to Hawaii
There wasn't much that was ugly in the Big 12 this past week, but Tech comes as close to qualifying for the category. The Red Raiders were undefeated going into the Maui Jim Classic to start last week, but they also hadn't played a Power 6 team. Right off the bat, the Red Raiders got Top 10 Creighton, and the Bluejays beat them, 76-65.
Tech bounced back with a 70-38 win over Louisville, which isn't nearly as impressive at that would normally be. Then Tech ended the tournament with an 80-73 loss to Ohio State. Tech was the rare Big 12 team with a losing week.
What to make of it? Well, the Red Raiders are at full strength, aside from center Fardaws Aimaq. Their other center, Daniel Batcho, earned all-tournament honors. The Red Raiders weren't blown out in either loss, either. So, the reality is that Texas Tech received a good measurement for where they need to go.
For the rest of the calendar year the Red Raiders will try and fine-tune the chemistry, starting with a game against Georgetown this week. After that, it's a slate of mid- or low-major teams before Big 12 play. The Red Raiders have every chance to be 10-2 before facing TCU on New Year's Eve.
You can find Matthew Postins on Twitter @PostinsPostcard