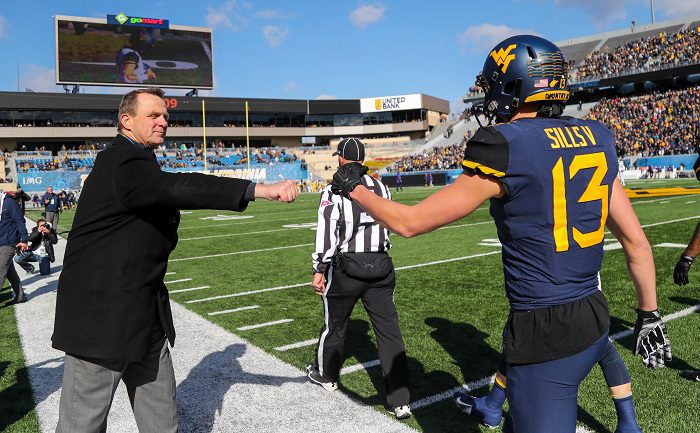 Exactly two weeks ago, West Virginia announced that it had decided to part ways with athletic director Shane Lyons in the midst of a struggling football program and budget issues.
Rob Alsop, West Virginia's vice president for strategic initiatives, is serving as the athletic director on an interim basis, with university president Gordon Gee set to hire a permanent replacement soon.
The former WVU athletic director recently did an interview with West Virginia Metro News and didn't mince words on how he felt about his firing.
"It was a complete surprise," Lyons said to MetroNews' Hoppy Kercheval. "Two weeks earlier, I have a text message [from Gee] saying, 'I know there's a lot of pressure on us and I wouldn't want to be in a foxhole with anybody else rather than you.'"
The pressure that Lyons is alluding to stemmed from the lack of success that the Mountaineers' football program has seen under Neal Brown. Back in 2020, Lyons extended Brown contract through 2026 after a 6-4 season that finished with win over Army in the Liberty bowl. In his four seasons at the helm, Brown has accrued a 22-25 record, including a 5-7 finish in 2022, the third losing season under its current head coach.
"It boils down to the football situation. A lot of heat was surrounding our football program at that time. I look at it that I'm the scapegoat."
"The culture was right and recruiting was heading in the right direction," Lyons said. "His name had come up for a couple jobs in Auburn and South Carolina. As an Athletic Director, you start juggling this to say, 'what if he wins the next year?' Well, if he wins the next year, his buyout was 1.5-2 million dollars, which is not much in our business. So my thinking was we need to increase his buyout if he ends up leaving to be close to 5 million dollars, which we ended up doing."
According to Lyons, much of the flak from that decision to extend Brown has fallen on him, but there were others' opinions who were taken into consideration before the extension was made official.
"President Gee was involved and Rob Alsop was involved and ultimately the chairman of the board Dave Alvarez signed off," Lyons said. "It's not done in a vacuum that Shane Lyons did this deal on his own. These types of contracts with a high-profile football coach are done in collaboration with other individuals."
From Lyons' perspective, his claim of being a scapegoat seems to have some merit but there are always two sides to every story. Unfortunately, we will likely never know what the truth is on the matter because so much of this will remain behind closed doors on the university's behalf. However, common sense says that there's likely more to this than we are hearing, as is almost always the case.