Baylor Bears
Iowa State Remains At Top of Big 12 Women's Basketball Power Rankings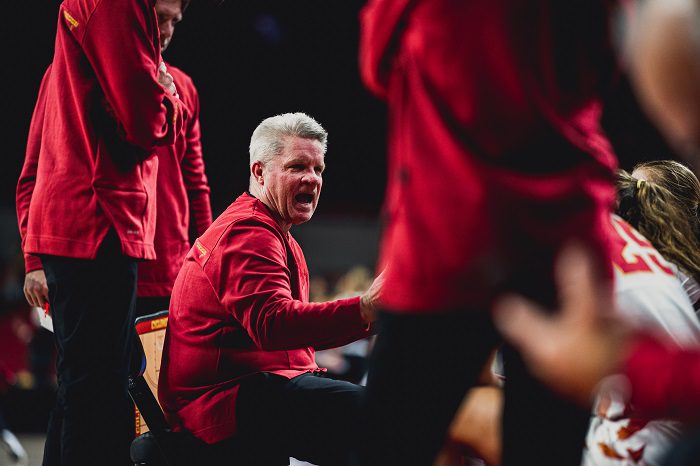 The Iowa State Cyclones are No. 1 in the Heartland College Sports Big 12 women's basketball power rankings entering the fourth week of action. Our Power Rankings will appear every Monday during non-conference action.
1. IOWA STATE (5-1: Last Week — 1)
Iowa State got its first big test at the Phil Knight last weekend, and the Cyclones split. ISU demolished Michigan State and then dropped a nine-point loss to No. 8 North Carolina. Given where everyone else ended up this past week, it seemed logical to keep the Cyclones at the top. ISU didn't play poorly against UNC. But it shows the value and the need for the supporting cast beyond Ashley Joens to step up and have a balanced game every night.
2. KANSAS (5-0: Last Week — 3)
Two more games, two more wins for the Jayhawks. Plus, Kansas is the only undefeated team left in the conference. Not sure anyone had that in the office pool after three weeks. Why not ahead of ISU? Kansas hasn't played a Power 6 opponent yet. The Jayhawks will take care of that when they host Texas A&M this week. Kansas will get a great measurement of where it is at then.
3. KANSAS STATE (7-1: Last Week — 2)
The Wildcats finally lost a game, dropping from the ranks of the undefeated after losing to Arkansas at the Paradise Jam. K-State is 1-0 against ranked teams and 3-1 against Power 6 teams. Five more non-conference games await and all five could be wins. Jeff Mittie is an early contender for Big 12 Coach of the Year.
4. BAYLOR (5-2: Last Week — 4)
The Bears went to Florida and beat Saint Louis and No. 23 Villanova to set up a showdown with No. 22 Michigan, which Baylor lost, 84-75. Baylor is now 1-2 against ranked teams and is still without both Aijha Blackwell and Dre'Una Edwards. But at least the Bears are challenging themselves. Forward Caitlin Bickle is healthy and it shows. Freshman Darianna Littlepage-Buggs is coming up huge.
5. OKLAHOMA (5-1: Last Week — 5)
One game last week and one win for the Sooners against Arkansas State. Madi Williams is making a play for Big 12 Player of the Year.
6. TEXAS (3-3: Last Week — 6)
Texas is back at .500 after wins over Rutgers and Princeton. Plus, guard Rori Harmon is back from her injury. Beware South Florida this week. The Bulls are good.
7. OKLAHOMA STATE (6-2: Last Week — 7)
Oklahoma State beat Florida State and Harvard, but lost to Purdue, in Cancun. Nicole Alnatas was named to the Cancun All-Tournament team. I'm still not sure how good OSU will be once Big 12 play starts. But the Cowgirls clearly won't be pushovers.
8. TEXAS TECH (5-1: Last Week — 9)
The Lady Raiders won two games in a hotel ballroom last week in Las Vegas. If that all sounds absurd, well, get ready for my deep dive on that in a couple of days.
9. WEST VIRGINIA (4-1: Last Week — 8)
I'm not sure why the Mountaineers only played two games in Cancun while Oklahoma State got three, but Top 15 NC State showed the Mountaineers just how far they have to go after the Wolfpack beat them, 78-40.
10. TCU (2-3: Last Week — 10)
The Horned Frogs are the only team in the Big 12, men's or women's, with a losing record. Coach Raegan Pebley has plenty of work ahead.
You can find Matthew Postins on Twitter @PostinsPostcard