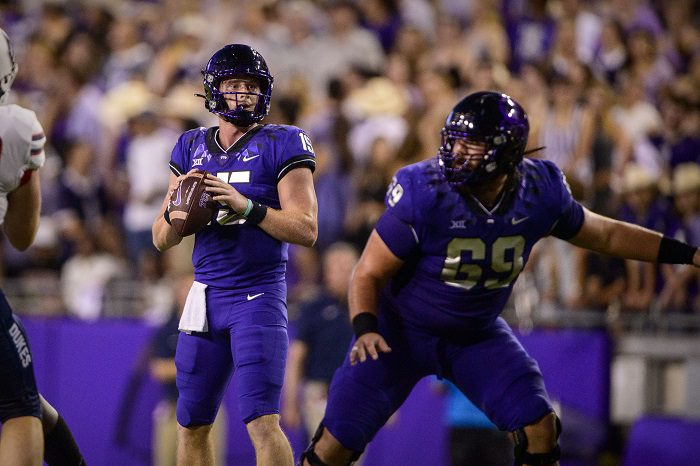 As college football rapidly approaches bowl season, we are starting to get a good view of the final contenders for the Heisman trophy barring any major changes. Another important week of football ahead of us brings a highly anticipated update to the 2022 Heisman trophy watchlist. These odds are courtesy of the sportsbook, BetOnline.
Of all the players that have made an appearance this season and received odds to win the award, we now find ourselves down to three major candidates receiving odds. Three outstanding quarterbacks headline the list with USC's Caleb Williams leading the pack with (1/30) odds to win the trophy, followed by Ohio State's CJ Stroud (25/1), and TCU's Max Duggan (25/1). As we find ourselves in the middle of championship week across college football it is unlikely that we will see much change in rankings at this point as Caleb Williams has claimed the favorite spot in spectacular fashion.
Caleb Williams controls the Heisman race with a sizable lead thanks to his success this season leading the Trojans to an overall record of 11-1 and a matchup with Utah for a shot to win the Pac-12. To this point in the season, Williams boasts a completion percentage of 65.8% while adding 3,712 yards and a touchdown to interception ratio of 34-3. That is scary good. Williams also adds 351 rushing yards and ten scores on the ground.
CJ Stroud who entered the season as most people's favorite to win the Heisman just hit a large setback with this weekend's 45-23 loss against Michigan. Regardless, Stroud has led the Buckeyes to an overall record of 11-1 with a completion percentage of 66.2%, 3,340 passing yards, and a touchdown to interception ratio of 37-6. Unfortunately for Stroud, the Big 10 title game belongs to that of Michigan and Purdue, which many feel that the conference was Ohio State's to lose.
Finally, we see the Big 12's last candidate in quarterback Max Duggan. TCU's success this season has been largely in part due to the improvement of Max Duggan. Duggan has a completion percentage of 66.6% this season and has thrown for 3,070 yards with a touchdown to interception ratio of 29-3. His stellar play has put TCU in a position to compete for the Big 12 title versus 13th-ranked Kansas State and given the Horned Frogs a legitimate chance to make the CFB Playoff.