Big 12 News
Contract Details Released for Kansas Coach Lance Leipold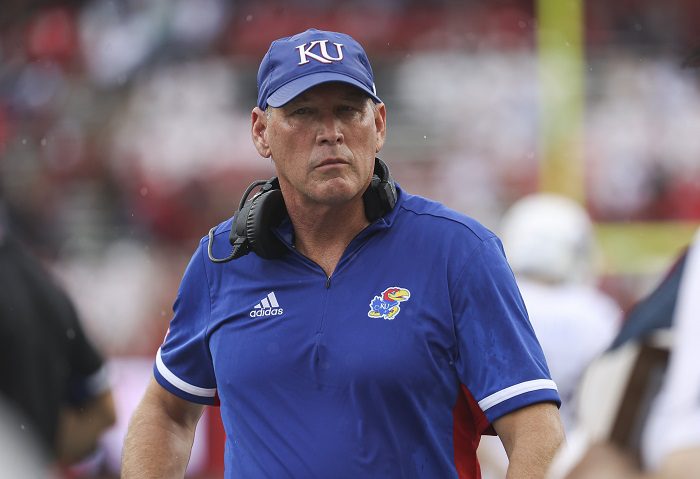 Last week, the Kansas Jayhawks secured their head coach, Lance Leipold, for the foreseeable future after the coach and university came to an agreement on a contract extension that would keep him in Lawrence until 2029.
In just his second season in Lawrence, Leipold has led the Jayhawks to a 6-5 record and its first bowl game since the 2008 season.
Now, the terms of the contract extension have been made public on Tuesday and the word "lucrative" is quite fitting.
According to the terms of the contract, Leipold will make $5 million in the first year of the deal with annual increases of $100,000. Leipold also gets a $750,000 signing bonus while his buyout rises to $12.5 million before gradually decreasing over time.
Leipold's original contract was a $16.5 million, six-year deal that paid him $2.2 million last year with $200,000 increases each season. Leipold had a year added to the deal Sept. 1 before leading the Jayhawks to a 5-0 start and an appearance in the Top 25. The Jayhawks finished the year 6-6 and secured a bowl appearance for the first time since 2008.
There are several incentives tied into the contract: $500,000 for playing for a national championship, $350,000 for appearing in the College Football Playoff semifinal, $250,000 for the quarterfinals and $200,000 for the first round. Leipold would make $150,000 for playing in a New Year's Six bowl game, $100,000 for any other bowl game, and $150,000 for playing for the Big 12 championship. He also could earn $50,000 simply for reaching seven regular-season wins.
"When we hired Lance Leipold 19 months ago, we were confident we had found the ideal fit for KU and that has been reinforced every single day since his arrival," Kansas athletic director Travis Goff said. "In short order, Lance and his family have engrained themselves in the Lawrence community and have made an impact that extends far beyond the football program, to the broader university and Lawrence communities.
"This new contract, along with the upcoming investment in our facilities, are a direct reflection of our profound commitment to building a first-class football program — one that will be a point of pride for all Jayhawks for years to come."