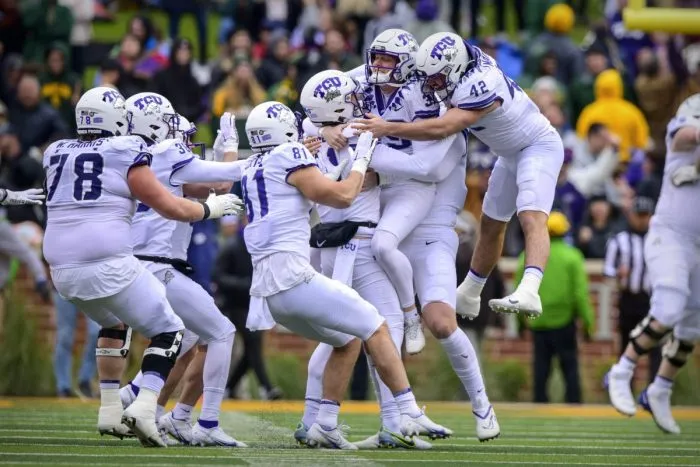 All three Big 12 teams in last week's College Football Playoff Top 25 Rankings won this past weekend, and with teams around them losing, found a way to move up this week.
The TCU Horned Frogs have moved to No. 3, up one spot from their fourth-place perch last week, after a 62-14 dismantling of Iowa State. The Horned Frogs benefitted from Michigan's 45-23 beatdown of Ohio State, sending the Buckeyes down to No. 5 from No. 2 last week.
It is being speculated that TCU will be in the College Football Playoff with a win or a loss this week against Kansas State, but leaving their fate in the hands of this College Football Playoff committee would not be wise for the Horned Frogs.
The K-State Wildcats climbed two spots to No. 10 in this week's rankings after defeating Kansas 47-27 and securing a spot in the Big 12 Championship Game against TCU. While they are out of the College Football Playoff conversation, K-State has locked themselves into a Sugar Bowl berth against an SEC foe.
With a win, the Wildcats would get an automatic berth as the Big 12 Champion since it is not in the playoff. With a loss, TCU will be CFP bound and the auto-bid would go to the Big 12 runner-up: Kansas State. Either way, K-State has a chance to win 10 or 11 games this season, and that is a major improvement in Year 4 under Chris Klieman.
The final Big 12 team to make the penultimate College Football Playoff rankings is the Texas Longhorns, who climbed from No. 23 to No. 20 after defeating Baylor 38-27 to finish the year 8-4. Texas finished one game behind Kansas State, a team that it defeated, in the Big 12 standings and thus missed the Big 12 Championship by that margin. Because of that, the Longhorns are likely looking at an Alamo Bowl berth against one of the Pac-12's top three teams.
Here's a look at the entire College Football Playoff rankings ahead of Championship weekend.
Georgia (12-0)
Michigan (12-0)
TCU (12-0)
USC (11-1)
Ohio State (11-1)
Alabama (10-2)
Tennessee (10-2)
Penn State (10-2)
Clemson (10-2)
Kansas State (9-3)
Utah (9-3)
Washington (10-2)
Florida State (9-3)
LSU (9-3)
Oregon State (9-3)
Oregon (9-3)
UCLA (9-3)
Tulane (9-3)
South Carolina (8-4)
Texas (8-4)
Notre Dame (9-2)
UCF (9-3)
North Carolina (9-3)
Mississippi State (8-4)
NC State (8-4)