Big 12 News
College Football Playoff Will Expand in 2024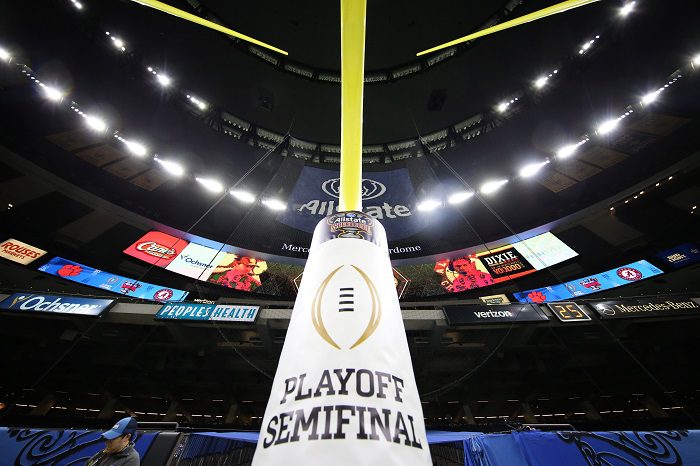 The College Football Playoff will reportedly expand from four teams to 12 teams two years early, thanks to the Rose Bowl's agreement to amend its contract.
ESPN and Sports Illustrated reported the agreement on Wednesday.
A formal announcement of the expansion is expected in the coming days.
An expanded playoff would be of immediate benefit to the Big 12 Conference, which hopes to have TCU in this year's College Football Playoff when the field is announced on Sunday. So far, Oklahoma is the only Big 12 team to participate in the playoff.
The expanded format, agreed to in September, will allow 12 teams in the playoff — the champions of the six highest-rated conferences and the top six at-large teams.
If the expanded playoff format were in place today, TCU and Kansas State would both be in the CFP, based on current rankings. The expanded format virtually guarantees at least one Big 12 team will be in the playoff each postseason.
The Rose Bowl was the final sticking point for expanding the playoff two years early, according to Sports Illustrated's Ross Dellenger.
All of the other major points had been decided upon, including schedule accommodations for a 12-team format, revenue-sharing models for the final two years of the current contract and other considerations.
But, in the past few weeks the Rose Bowl has made demands on the future of its game in the new contract, which starts in 2026, in exchange for expansion of the playoff starting in 2024. Those accommodations started with keeping its Jan. 1 game window for future playoff games, including its specific game time of 5 p.m. eastern. For the Rose Bowl, it was a matter of timing. The Tournament of Roses Parade starts that morning, which leads into the game, and allows for a sunset that shines on the San Gabriel Mountains at the end of the third quarter.
Aesthetically, it's one of the best single camera shots in college football. But CPF executives balked at the proposal.
The Rose Bowl later said it would give up the exclusive game window if in exchange wants to host a semifinal on New Year's Day in two years of its three-year rotation. That proposal reportedly didn't go over well with the CFP either.
The current contract for the CFP cannot be expanded unless everyone — including the Rose Bowl — agrees to do so. Without agreement, the expansion could not take place until the new contract takes hold for the 2026 playoff. It would also cost the CFP and the FBS schools a potential of $450 million in television revenue for the expanded playoff in 2024-25.
You can find Matthew Postins on Twitter @PostinsPostcard