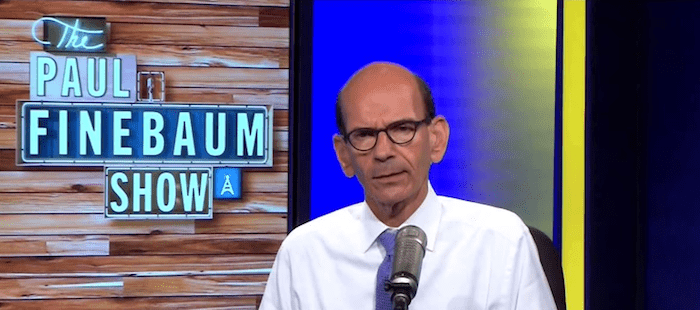 Two weeks ago, Stephen A. Smith and Paul Finebaum went on-air with ESPN's First Take and trashed TCU, essentially questioning whether or not a hypothetical 13-0 Horned Frogs team deserved to be in the College Football Playoff.
Then, last week, Finebaum took another shot at the Big 12's top team in 2022, saying that nobody would be watching the Big 12 Championship game very closely. It was a weird take, especially when ESPN just signed a massive television deal with the same conference that Finebaum was berating.
The Big 12 decided to step in and say something to Finebaum and used facts to back up their side of the argument, something that Finebaum isn't familiar with as of late.
Since then, ESPN's SEC talking head has changed his tune a bit, and walked back his previous statement about the Big 12 Championship.
"I said something once that people may have taken too seriously, but I can't wait to watch the Big 12 Championship Game, I really can't," Finebaum said. "I've been quoted as saying that I really didn't care about it and that the country didn't care about it, but now [ESPN's College] Gameday is going and you'll be talking about it leading into it. I'm all in."
Whether it was truly a change of heart (I doubt it) or his superiors cracking down on him for trashing their new business partner, Finebaum sounds completely different this week. I'd say it's probably a bit of saving face after Gameday announced it was heading to Arlington to cover the Top 10 matchup.
It's safe to say that people will be watching the Big 12 Championship game, and that crowd appears to include Paul Finebaum now.