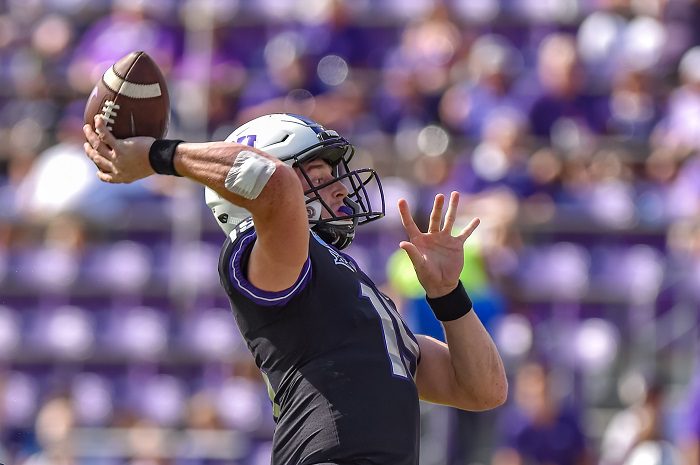 TCU quarterback Max Duggan has been one of the most electric players in the country in 2022 and is the main reason why the Horned Frogs are 12-0 and ranked No. 3 in the latest College Football Playoff rankings.
Unfortunately, because he doesn't play for USC or Ohio State, Duggan isn't getting the same amount of love from the national media that guys like Caleb Williams or C.J. Stroud are.
Duggan has completed 66.6% of his passes in 2022, throwing for 3,070 yards and 29 touchdowns to just three interceptions, adding 294 yards and five touchdowns on the ground.
Duggan is fourth in the nation in passing efficiency with a 171.3 rating and is tied for second among Power 5 quarterbacks with 16 touchdown passes of at least 20 yards. He has also accounted for three or more touchdowns in eight of his 11 starts this season. 
While his stats are impressive, and they are that, the Heisman trophy stands for more than that, as legendary TCU alum LaDainian Tomlinson tells us in Max Duggan's Heisman trophy campaign.
Duggan's toughness and perseverance has been on display all season long as the senior signal-caller has led his team through the regular season undefeated and is one win away from leading TCU to its first College Football Playoff appearance in school history.
No. 15 absolutely deserves to be in the Heisman race, and if he is sitting anywhere but New York City when the trophy's winner is announced, it would be one of the biggest travesties this sport has seen in a long, long time.