featured
TCU Should be in College Football Playoff, Regardless of Saturday's Outcome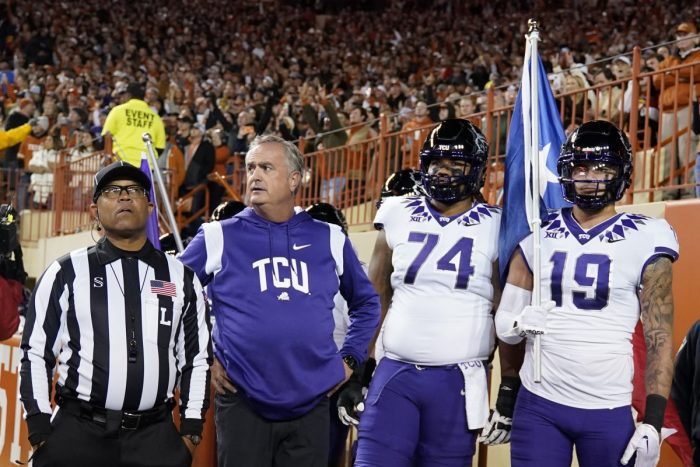 Saturday should be an amazing day for sports fans. First, the United States takes on the Netherlands in a winnable Round of 16 match at the World Cup. After that, we get a full day of Conference Championship games across college football. On Saturday, two teams will play conference title games already knowing they're playoff bound, Michigan and Georgia. On Friday night, USC takes on Utah in hope of clinching their spot in the Playoff, the other team looking to clinch will be TCU. Hopefully by about 11:00 a.m. USMNT fans will be celebrating, then TCU and Kansas State will kick off in Arlington. 
The consensus seems to be that TCU needs a win to ensure a playoff berth, but they should already be in based on what they've done. Both Ohio State and Alabama will be sitting at home this week, while TCU puts its playoff chances on the line, and I don't think that should be the case. Now I'm not of the mindset that the 13th data point shouldn't matter with those two sitting at home. In fact, I think USC should be out with a loss to Utah. But there's a difference between USC and TCU, and that of course is that USC has one loss. Even with a loss on Saturday, TCU would have a better record and overall resume than Ohio State. Let's take a look at their resumes.
TCU's Resume
To start, let's just take a look at TCU's non-conference. The committee has talked about the importance of scheduling a tough non-conference. This season TCU went on the road twice in the non-conference against both Colorado and SMU, the latter is a quality opponent for a Group of Five team, and already a must-play, this game was made even more difficult with all that surrounded the Sonny Dykes departure. Colorado admittedly stinks, but these games are scheduled so far in advance there's no way of knowing how good a team will be when non-con games are played. TCU at least scheduled a road game with a power five school, something that Ohio State did not do.
Once you get into conference play, it gets much more difficult for TCU, they opened with an, at the time, highly touted Oklahoma team. OU was definitely a massive disappointment this season, but TCU also killed them, 55-24. After that, they took on a ranked 5-0 Kansas team on the road, hosting College Gameday, and in front of a packed house. This kicked off a string of tight games, but TCU did the job once again; sure Jalon Daniels got hurt, but Jason Bean had a great second half in relief. After that, the Horned Frogs had comeback wins over Oklahoma State and Kansas State at home. This was the good version of Oklahoma State this season, not whatever it is that we had to watch this past month. Sure both teams had QB injury issues, but TCU's starter at the beginning of the season was Chandler Morris, and he went down in the first game and TCU was just fine without him the rest of the way.
A tight win in Morgantown followed that, but TCU did lead throughout the game, and after that TCU had another fourth-quarter comeback against Texas Tech, who finished with a winning record in Big 12 play. Then, TCU took on Texas in a primetime game and showed the country just how good they were. While their defense was a concern for the committee, they quickly quieted those concerns bottling up Bijan all game and holding the explosive Texas offense to just a single field goal. In their penultimate regular season game, a last-second field goal was enough to lift them to a 29-28 win. Many anti-TCU people have used this as evidence that TCU isn't any good, conveniently forgetting the game in Austin just a week before it. It's worth noting that this was on the road at their arch-rivals, in a series that always lends itself to some crazy results.
Ohio State's Resume
Ohio State to their credit did schedule a very tough opening game, at home against Notre Dame, and won 21-10. It's important to remember that Notre Dame was horrible during the first few weeks of the season. Additionally, Ohio State followed that up with home games against Arkansas State, Toledo, a bad Wisconsin, Rutgers, and Iowa, plus a road game with Michigan State. In fact, Ohio State didn't play a road game until October 8th, five straight home games to start the season. By October 8th TCU had played three road games, and just two at home, Ohio State would play just four road games compared to TCU's six. 
Finally, on October 29th, they'd play their first ranked teams since the opening week, on the road against Penn State. They won 44-31 but did struggle a bit, much like TCU did in most of their ranked matchups, as many like to remind us. Unlike TCU who had strings of tough games, that wasn't the case for Ohio State, as they then went to Northwestern, and definitely didn't look convincing in a 21-7 win. Following a rout of Indiana, they trailed at half to Maryland and nearly lost the game before pulling it out in the final minutes. Sure you can definitely blame that on Ohio State looking ahead to Michigan that's fair, however, there is a problem with that.
If they were overlooking Maryland, and looking forward to Michigan too much they sure as heck should've played better against Michigan. Instead, they were dispatched 45-23, at home no less. TCU got knocked a lot by people for having to come from behind in the second half this season, sure that wasn't the case for Ohio State. In fact, Ohio State led 20-17 at the half, getting outscored 28-3 by their arch-rivals, at home, with the whole country watching. That is not a playoff team, sure if they're the fourth team left with less than two losses I could see them getting in, but that would be at USC's expense not TCU's. We already went through this song and dance in 2020, where Notre Dame got their doors blown off by another playoff team in the last week, and got in ahead of a one-loss Texas A&M team. We don't need to go through that again.
TCU Should be in Regardless
Comparing the two's schedules it's clear that TCU's resume is better than Ohio State's even if they lose to a good Kansas State team Saturday. According to ESPN, TCU has the best strength of record in the country, and they rank just one behind Ohio State in strength of schedule, with Ohio State at 34, and TCU at 35. That stat will flip after Saturday when TCU takes on top 10 Kansas State, and Ohio State sits at home. Add into that even with a loss to Kansas State that TCU would still have a better record, with a tougher schedule the choice is clear. When TCU and Kansas State play on Saturday it should just be for a Big 12 title, and not a Playoff spot. TCU's hay should already be in the barn there.