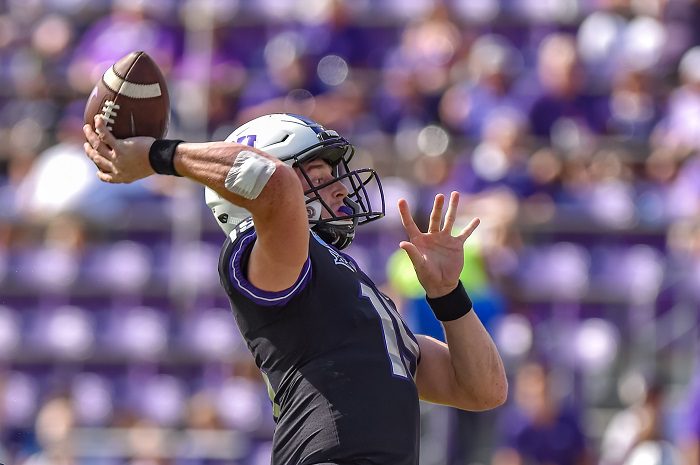 The bigger the stage, the bigger the money. That's been the philosophy for a multitude of great players across the country since the Name, Image and Likeness was approved by the NCAA. With this weekend's Big 12 championship game between the Kansas State Wildcats and the TCU Horned Frogs, let's take a look at the players who would benefit the most from NIL deals in the Big 12 Title Game, according to On3.
At the top of the list, we've got TCU quarterback Max Duggan. Duggan's NIL valuation sits at a whopping $374,000, which makes sense for someone who influences the game as much as he does. Following Duggan, we have his teammate, running back Kendre Miller. Miller's NIL valuation sits at $344,000 and as one of the premier players in the conference, he is worth every penny. Kendre Miller's rushing attack this season for the Horned Frogs is one of the main reasons they've had so much success this year, and as a Junior, he's got a lot more coming.
Switching from one purple school to another, we have a surprise appearance on the list, Kansas State offensive lineman, Cooper Beebe. Before I get any angry emails, let me explain what I mean by surprising. It is not surprising that Beebe is as high as he is on this list as he is an NFL-caliber player, what does surprise me is that an offensive lineman is getting as much respect in the NIL conversation as certain skill position players. Beebe is a first-team All-Big 12 player and deserves every bit of his $333,000 NIL valuation, and I hope to see more linemen make an appearance on this list next year.
After Beebe comes another superstar player in K-State running back Deuce Vaughn. Vaughn's NIL valuation sits at $286,000, however Deuce Vaughn did announce this morning that he's partnering with Robbins Motor Company in exchange for a brand-new Porsche Cayenne. Deuce's NIL money has major potential to skyrocket if Vaughn returns for his senior season with the Wildcats in the fall.
Last but not least we have stud cornerback Tre'vius Hodges-Tomlin. Hodges-Tomlin occupies the fifth spot on the list for NIL valuation at $274,000. While all five players are making sizeable amounts of money through their NIL deals, each of the five players on this list has a real chance to impact the outcome of Saturday's game.