Trending Now
Deion Sanders Named New Head Football Coach at Colorado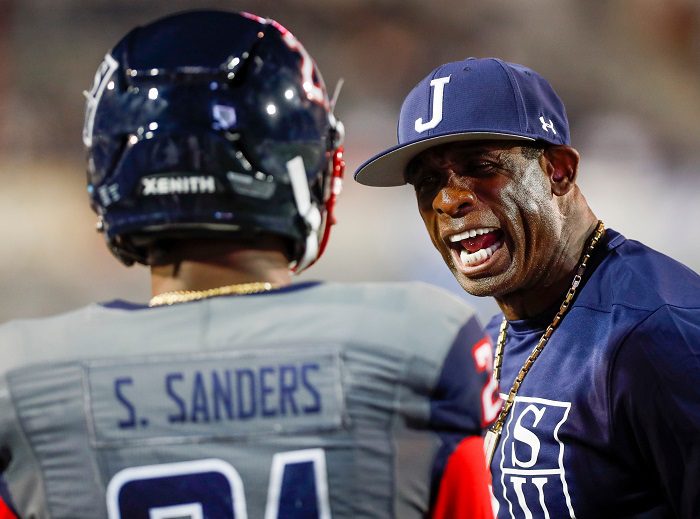 Colorado has its next football coach in Deion Sanders.
The Buffaloes announced Sanders as their 28th head football coach Saturday night shortly after his Jackson State Tigers defeated Southern 43-24 to win the 2022 SWAC Championship Game.
Sanders has spent the last three seasons coaching Jackson State. He has led the Tigers to a 27-5 overall record with a perfect 12-0 mark this season. Before Sanders' arrival, JSU went 21-40 in the previous six seasons. Jackson State is 23-2 over the last two seasons with a perfect 16-0 mark in SWAC play and consecutive conference championships.
The Buffaloes fired coach Karl Dorrell in October after starting 0-5. Colorado finished the season 1-11.
Colorado athletic director Rick George in a statement, "There were a number of highly qualified and impressive candidates interested in becoming the next head football coach at Colorado, but none of them had the pedigree, the knowledge and the ability to connect with student-athletes like Deion Sanders. Not only will Coach Prime energize our fanbase, I'm confident that he will lead our program back to national prominence while leading a team of high quality and high character."
CBS News Colorado reported Friday that Colorado offered Sanders a contract with a starting salary of "more than $5 million" with incentives that could see the annual pay increase "by roughly 40%" if met.
Sanders brought some top-tier talent to Jackson State, including the No. 1 recruit in the Class of 2022, cornerback Travis Hunter. It's likely that some of that talent will follow him to Colorado and he will have no problem landing players in the transfer portal.