TCU Horned Frogs
Inside TCU's Final Plays in Overtime in Big 12 Championship Game: 'We Were an Inch Away'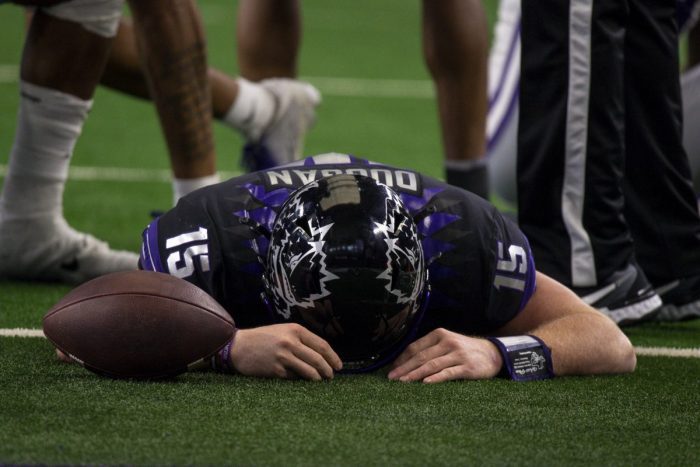 ARLINGTON, Texas —TCU quarterback Max Duggan was so super-human in the final minutes of regulation of Saturday's Big 12 Championship game that he rushed for 95 yards on an 80-yard scoring drive to tie the game at 28-all.
That's football math for you.
That's late-game Max Duggan for you.
But, when it mattered most, on a day when Kansas State's run defense did a good job slowing down the Horned Frogs' overall run game — at least until Duggan ran over the Wildcats on that one drive — Duggan's legs were nowhere to be found on TCU's final two offensive plays in Kansas State's 31-28 title win in overtime.
Before overtime, Duggan appeared to have pointed the Horned Frogs toward destiny — a 13-0 season with a Big 12 title and a lock for the College Football Playoff. Duggan ran it six times on that drive. Three of those plays were by design, TCU head coach Sonny Dykes said. Three were, in Dykes' own words, "Typical Max Duggan performance."
Duggan had 110 net rushing yards by game's end. Ninety-five of those gross rushing yards came on that game-tying drive.
Sure, Duggan MAY have scored on that second-and-6 run at the Kansas State 6-yard line in overtime. Dykes was so confident Duggan had scored that he called a time out to try and challenge the call.
"Obviously I thought Max scored on the scramble," Dykes said. "I was trying to get them to replay it. I don't what they thought but I thought the spot was wrong, but it is what it is."
The call stood. But TCU had two more downs. And less than a yard to go.
Two Plays To Go
Instead of going to Duggan one more time the Horned Frogs went with two runs to their usually-reliable running back Kendre Miller.
"Kendre has done it for us all year," Dykes said. "You know what I mean? I mean, he's been really, really good at converting those short-yardage situations. He's done it consistently. We've got a lot of confidence in him."
Miller had trouble getting yards all Saturday afternoon, thanks to Kansas State's run defense. Duggan was the hotter hand late. But, Dykes said after the game that Duggan's overall exhaustion played a role in handing the ball to Miller. After seeing Duggan after the game, Dykes' decision made a little more sense. But Duggan made it clear he wasn't coming out of the game, even after doubling over in the end zone after scoring the game-tying touchdown.
Miller had 82 yards rushing and a touchdown on Saturday. But Kansas State made every yard Miller gained difficult. And as TCU needed to rally late, that minimized Miller's potential impact down the stretch.
Sonny Dykes on the Final Plays
But still. One inch. Two plays. Miller surely could get that, right?
"We were literally an inch away from winning the game," Dykes said.
Well, Dykes THOUGHT Miller got it on third down on that run right up the gut. Replays above the play seemed to show the ball crossed the plane. But a replay from the back of the end zone not only couldn't clarify that, but it also showed that Miller lost the ball, and it was unclear whether he was down or not.
"That's what our people upstairs told us when they saw the replay (that they scored)," Dykes said. "I don't know (if they reviewed it). I'd love for somebody to come give us some answers, but I was told they did. I don't know."
But, one more play right? Fourth and, what, an inch? You have to get that. Dykes knew it. Miller knew it. The Horned Frogs knew it. The whole stadium knew it.
So did the Wildcats.
The Final Play
Miller got the ball again, this time off-tackle to the left. There was a gap, but only briefly. That's when Kansas State's Daniel Green and Eli Huggins closed that gap and pushed Miller back before he could get to the goal line. All Duggan could do was watch.
"They didn't call me in so I didn't score (on second down)," Duggan said. "At that point (fourth down) I don't really care. I don't care if I'm on the sideline. I just want to make sure we win the game."
Duggan's will to win was overcome only by Kansas State's goal-line stand and the Horned Frogs' decision to go to Miller. It's hard to be critical of that choice. Miller was an All-Big 12 First Team running back and scored 17 touchdowns this season. In fact, Miller, scored at least one touchdown in every TCU game, including Saturday.
But, when it mattered most the Wildcats pushed back. And, for the first time his season, it cost the Horned Frogs.
"You've got fourth and less than a yard," Dykes said. "You've got to figure out a way to get the ball in the end zone. We didn't do it. You've got to get Kansas State credit for getting the stop."
You can find Matthew Postins on Twitter @PostinsPostcard