Big 12 News
Sonny Dykes Says TCU Deserves Playoff Bid Despite Loss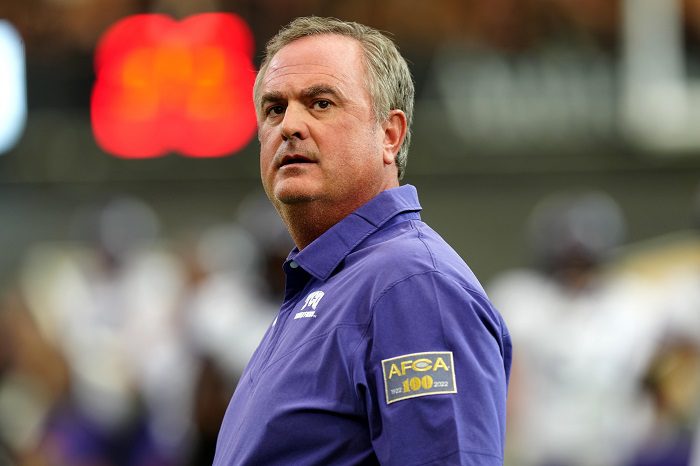 ARLINGTON, Texas —TCU head coach Sonny Dykes said that the Horned Frogs deserve to be in the College Football Playoff, despite their 31-28 loss to Kansas State on Saturday.
The Horned Frogs (12-1) absorbed their first loss of the season in the Big 12 Championship Game at AT&T Stadium, falling to No. 10 Kansas State. The Horned Frogs were No. 3 in the last CFP rankings that came out on Tuesday. The final rankings come out on Sunday.
Dykes said he's confident that the committee will see that the Horned Frogs are one of the four best teams in the country, despite the loss.
"For sure I do," Dykes said. "I mean, we went through the big 12 undefeated. We've been able to figure out how to win games all year, and today we weren't able to do that. But I think we're certainly deserving I think this league is one of the best leagues in the country and we went undefeated. I don't think we should be punished for coming to the Big 12 Championship game. I don't think that's how this is designed. I don't think it's designed to punish teams and prevent them from getting in the playoff."
Dykes did acknowledge that the Horned Frogs could have made it easier on themselves with a win on Saturday. A 13-0 Big 12 champion would have been a lock to be in the Top 4 when the field is unveiled on Sunday.
But, the Horned Frogs are the only team in the Power 5 to beat every team in their conference this season. Plus, Dykes said that the nature of today's loss — an overtime loss to a Top 10 team — reinforces the rigorous schedule that TCU played this season.
"We were literally an inch away from winning the game, or certainly have the chance to and so my hope is that they (the committee) sees it the same way and realize, 'Hey, look, this is the resume and it is good enough,'" Dykes said. "But again, our hope was to not have to rely on a beauty contest, you know what I mean? Our hope was to kick the door down and make sure that we were Big 12 champs so there's no discussion about it."
Big 12 Commissioner Brett Yormark told the media before the game that he felt TCU should be in the field, win or lose.
"I think so," Yormark said. "I mean you look at their strength of schedule. You think about how they've performed all year long. Obviously, you know the best way to get in is to take care of business today. But I think regardless they should be in for sure."
You can find Matthew Postins on Twitter @PostinsPostcard