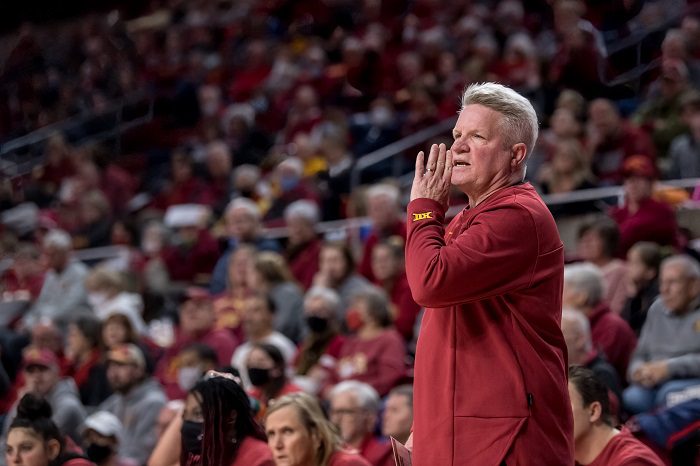 The Big 12 managed to have four teams in the AP Top 25 Women's Basketball Top 25, released on Monday after Week 4 of the season.
Those teams included:
Iowa State at No. 10 (No. 8 last week);
Baylor at No. 19 (No. 21 last week);
Oklahoma at No. 23 (unranked last week);
Kansas State at No. 24 (unranked last week).
Texas dropped out of the Top 25 after its fourth loss of the season while Kansas continues to receive votes but can't crack the Top 25.
Iowa State (6-1) blew out SIUE in its only game last week. The Cyclones travel to in-state rival Iowa later this week, which is a Top 25 matchup.
Baylor (6-2) won its only game last week and continues to wait to hear on the status of two transfers — Aijha Blackwell (injury) and Dre'una Edwards (transfer waiver).
Oklahoma (7-1) returned to the poll after a two-week absence.
Kansas State (8-1) returned to the poll after a one-week absence after beating Houston.
Texas (4-4) fell out of the poll after losing to South Florida, giving the Longhorns a fourth loss before Big 12 play begins later this month.
This week's AP Top 25 women's poll looks like this:
No. 1 South Carolina, No. 2 Stanford, No. 3 Ohio State, No. 4 Indiana, No. 5 Notre Dame, No. 6 UConn, No. 7 Virginia Tech, No. 8 North Carolina (tie), No. 8 North Carolina State (tie), No. 10 Iowa State, No. 11 LSU, No. 12 Arizona, No. 13 UCLA, No. 14 Michigan, No. 15 Utah, No. 16 Iowa, No. 17 Oregon, No. 18 Creighton, No. 19 Baylor, No. 20 Maryland, No. 21 Arkansas, No. 22 Gonzaga, No. 23 Oklahoma, No. 24 Kansas State, No. 25 Villanova.
Big 12 teams receiving votes: Kansas, 37, Texas 17.
You can find Matthew Postins on Twitter @PostinsPostcard.