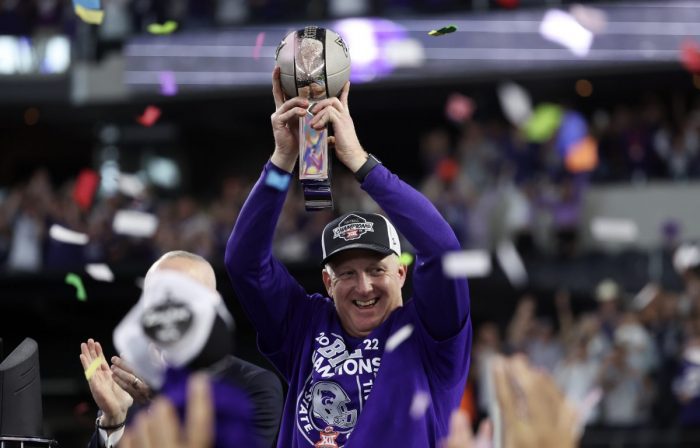 In 2024, the College Football Playoff will consist of 12 teams, giving every Power Five conference the chance to send its champion to play for a national championship at year's end.
However, in 2022 and 2023, we will have to suffer through the old way of doing things. Just four teams, and three Power Five conferences are represented in this year's playoff, while just three "P5" conferences made it last season. Any way you slice it, at least one conference will be left out in the cold with a four-team playoff; this year it is the Pac-12 and the ACC.
However, that won't be an issue for much longer, as the new 12-team model will be much more inclusive and thus a better way of crowning a champion.
So, what would a 12-team playoff look like if it were implemented in 2022? Well, CBS Sports provided an in-depth breakdown of the intricacies, and it's actually quite fascinating. David Cobb broke things down pertaining to a hypothetical 12-team playoff in 2022, and these are the criteria with which he ranked the teams and built the playoff.
Playoff Criteria
12-team bracket: Six highest-ranked conference champions (no minimum ranking requirement) plus next six highest-ranked teams
Rankings system: CFP Selection Committee will continue to determine weekly rankings with criteria to be reevaluated
Bracket placement: Four highest-ranked conference champions will be seeded 1-4 with first-round byes; four highest remaining seeds will host lower seeds at sites to be determined
Scheduling: First-round games will be played at campus sites on either the second or third weekend in December, at least 12 days after conference championship games
Bowl relationship: Quarterfinal and semifinal games will be played at rotating bowl sites subject to agreements being reached; national championship will continue being played at neutral sites; existing conference relationships with bowls will be considered for game placements
Byes
Awarded to the four highest-ranked conference champions.
1. Georgia
2. Michigan
3. Clemson
4. Utah
Remaining Playoff Field
5. TCU
6. Ohio State
7. Alabama
8. Tennessee
9. Kansas State
10. USC
11. Penn State
12. Tulane
College Football Playoff
First Round
Game 1: (9) Kansas State at (8) Tennessee
Game 2: (12) Tulane at (5) TCU
Game 3: (10) USC at (7) Alabama
Game 4: (11) Penn State at (6) Ohio State
Quarterfinals
Game 5: (1) Georgia vs. Game 1 winner
Game 6: (4) Utah vs. Game 2 winner

Game 7: (2) Michigan vs. Game 3 winner
Game 8: (3) Clemson vs. Game 4 winner
Doesn't this just seem so much more rewarding for everyone involved?
The first and most important thing that I took away from this was that there will be a new emphasis on the importance of conference championship games. Had TCU won this weekend against K-State, it would've earned a bye week as the No. 3 team in the bracket. Instead, they would have to host a tricky Tulane team that beat the Wildcats earlier in the year.
On the flip side, Kansas State was able to get into the playoff with a conference championship and had it lost, it would've fallen out of the Top 12 and out of the playoff field.
The new "hang-up" will be the debate on how to rank the conference champions from one to five. The fifth team misses out on a bye, so that will be a significant debate and one that will certainly be worth debating. Like this season for example: Is Utah really more deserving of the No. 4 spot than Kansas State is? They're both 10-3 conference champs, so what makes one better than the other?
The beautiful thing about this model is, despite that debate, both teams will have a shot at a national championship, and that's what it's about at the end of the day. Every team in the country has a path to the playoff come 2024, and that is the way that it should be.