Trending Now
Big 12 Championship Game Viewership Barely Trails SEC, Big Ten, Blows Out Pac-12, ACC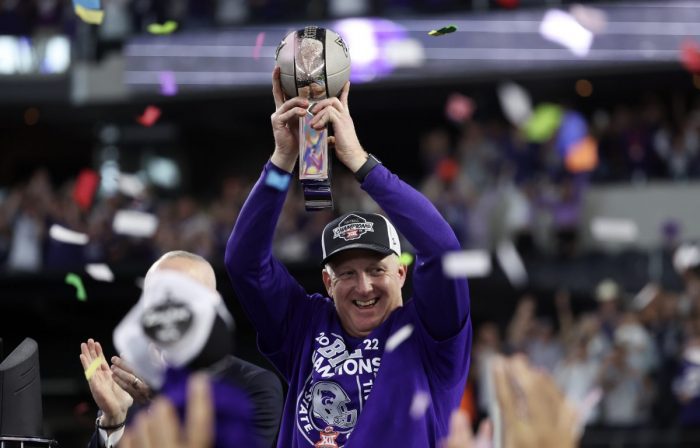 Television ratings for conference championship weekend have been released and it appears the Big 12 has some real staying power, even without Oklahoma or Texas.
The Big 12 Championship game between Kansas State and TCU drew an average of 9.41 million viewers, which ranks them third out of the conference games, just behind the SEC (10.89M) and Big Ten (10.70M).
Not only did the Big 12 rank third, it outdid the Pac-12 (5.97M) and ACC (3.47) by a wide margin. The Big 12 Championship's 9.41M viewers was nearly more than the Pac-12 and ACC Championship games combined (9.44M) and it rating of 5.3 was more than both the Pac-12 (3.3 RTG) and ACC's (1.9 RTG) ratings combined.
This is just another data point that proves the Big 12 has legitimate staying power over the Pac-12 and even the ACC. The Pac-12 Championship game was on Friday night, in primetime, and had College Football Playoff implications with the conference's largest brand (who is on their way out) on display.
Yet, the ratings showed that people simply didn't tune in as one would think. Perhaps everyone was out on the beach at 8:30, or there was just too much going on in LA for USC fans to watch? Whatever is happening, the Trojans will be gone in a few years and the Pac-12 might be too.
The Big 12? No, it will be just fine, as Saturday showed. There are passionate fan bases and great football teams in this conference, regardless of what people on the east and west coasts try to feed us.