Big 12 News
Big 12 Commissioner Brett Yormark: 'We Will at Some Point' Get Into Fourth Time Zone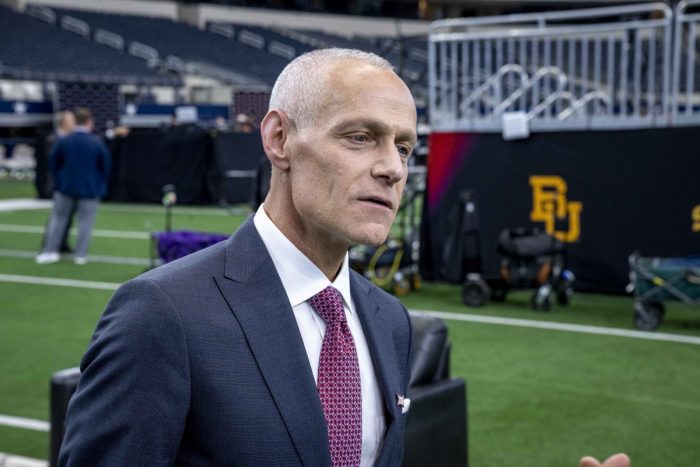 Big 12 Commissioner Brett Yormark continues to remain steadfast on the idea of the conference eventually getting itself into the pacific time zone.
Yormark made the comments again on Wednesday night when speaking with media, saying, "We'd love to get into that fourth (Pacific) time zone and we will at some point."
It's known that Yormark is more than willing to be aggressive on behalf of the Big 12 Conference, but of course finding the right fit is key. In recent weeks, it was reported that Yormark had conversations with Gonzaga regarding potential Big 12 expansion. What makes that tricky is that while the Bulldogs have a top-flight basketball program, they haven't played football in decades.
According to ESPN's Pete Thamel, adding Gonzaga was something that the Big 12 brought up in its talks ahead of reaching its new television deal, although the potential addition had nothing to do with the Big 12's final deal.
"It was hinted at," a familiar source told Thamel. "It came up in a quiet manner. It's a positive, but it's not a financial game-changer."
Brett Yormark has been talking about "going west" since he took over as commissioner over the summer. In September, he told The Athletic, "Well, I don't want to get into the specifics, and I appreciate the question. But obviously going out west is where I would like to go. Entering that fourth time zone. A program that has national recognition. One that competes at the highest level in basketball and football, stands for the right things, is a good cultural fit. Because our alignment right now and the like-mindedness of all of our member institutions is fantastic. It's never been better. So I don't want to compromise that, and that's critically important that there is the right cultural fit when you think about coming in and being part of what we're building here."
Yormark has made it clear that the Big 12 won't stay pat at 12 teams, the question appears to be simply this: Who is the best fit? And when?