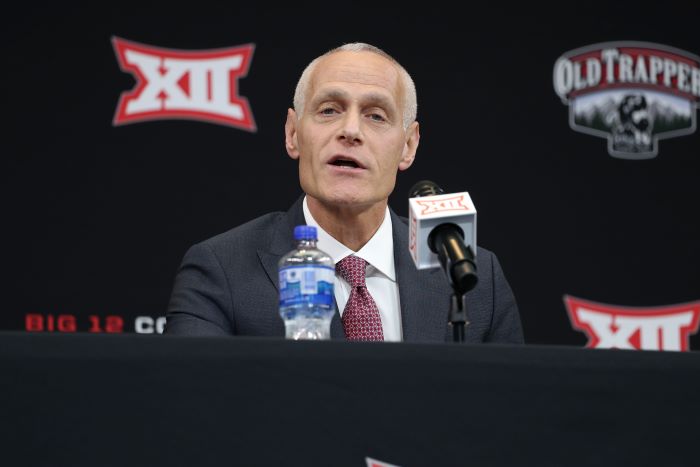 Big 12 commissioner Brett Yormark called last month's Las Vegas Invitational "disappointing" and said he and his staff would talk about this this week.
Yormark made the comment during the Big 12 Championship Game on Saturday at AT&T Stadium.
The Las Vegas Invitational, which was a multi-team women's basketball tournament last month, featured 10 teams, including Texas Tech.
The event gained national attention for the wrong reasons. The women's portion of the tournament was hosted in a hotel ballroom in the Mirage Hotel. There were no bleachers for fans, as they had to either stand or find a portable seat. Some coaches spoke to ESPN about the experience, including Indiana's Teri Moren, who said that the set-up of the tournament was not as promised.
Perhaps most troubling was the near-hour wait that Auburn's Kharyssa Richardson waited for medical attention because there was no ambulance or paramedics on site for the event.
Contrast all of that with the men's portion of the invitational, which was held at the 7,200-seat Orleans Arena.
"Well, I haven't had a conversation with my team yet about it," Yormark said. "And it's on the agenda for our staff meeting this week. Obviously, what I heard was disappointing and needs to change. So we need to address that."
Texas Tech women's basketball coach Krista Gerlich talked about her team's experience at the Las Vegas Invitational when the team returned, echoing Moren's criticism of event organizers not living up to their promises for the event.
"It was a little discouraging because it wasn't what we were presented," Gerlich said. "I don't think that it was unsafe, except that they didn't have emergency people there or present to help us. But the court itself was safe. I think the idea and the concept was good, which is why we signed up to do that. But they just didn't follow through with several things. That was frustrating from a coach's point of view because we want to give our kids a great experience, along with our fans."
Due to the fallout, three teams pulled out of another scheduled Las Vegas Invitational to be held later this month. Dayton, Texas A&M and Purdue will not play in Las Vegas. Purdue will now go to Texas A&M later this month.
You can find Matthew Postins on Twitter @PostinsPostcard