featured
Can K-State Take the Next Step After Winning a Big 12 Championship?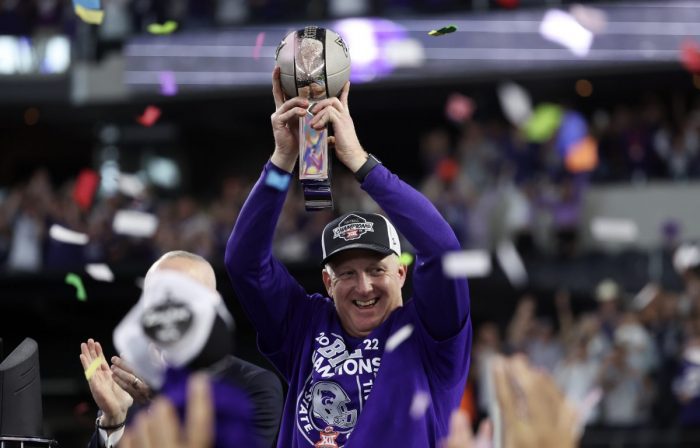 "Big 12 champions has a nice ring to it," said Klieman, who is in his fourth season at Kansas State.
Yes, it does, coach! K-State got it done against TCU in a thrilling Big 12 championship game. Ty Zentner kicked the game-winning field goal in overtime to give K-State the 31-28 victory. It was K-State's third Big 12 championship and its first in the Chris Klieman era.
With the victory, K-State earned a spot in the Sugar Bowl to play Alabama, one of the most successful college football programs of all time and one of the best programs in the country at the moment. It will be a huge task to beat Alabama and a great litmus test to see where the Wildcat program stands while going against one of the best programs in college football.
K-State was unable to build off its success when previously winning the Big 12 conference in football. The 2003 championship team lost a lot of talent, most notably starting quarterback Ell Roberson, and the program sputtered to a 4-7 record in 2004 and a 5-6 record in 2005. That led to Bill Snyder's first retirement and the hiring of Ron Prince. We all know how that ended up.
In 2013, as in 2004, the program failed to take a step forward after winning its championship. The Wildcats were 8-5 in 2013, 9-4 in 2014, and hovered between five and nine wins a season until Snyder retired for the second time in 2018. Enter Chris Klieman as head coach of the Wildcats.
It begs the question: Can Klieman and the K-State football program take the next step and compete for a national championship? Klieman won four FCS national championships at North Dakota State, and his goal is to win them at the FBS level. It will be a tall task and will be fascinating to watch. K-State's best recruiting class in a long time is about to sign on the dotted line and another great quarterback, Avery Johnson, is a part of it. K-State will lose quite a few great players from this year's team. The question is: Can they reload? If so, how long will it take?
I realize that I am probably jumping ahead of myself here. I should probably sit back and smell the roses, right? Enjoy winning the Big 12 and the opportunity to play Alabama. I cannot help thinking about it. The Sugar Bowl will be a good gauge for us to tell where the K-State program stands. If they get blown out, we will realize that they have a long way to go.
On the other hand, if they can hang with Alabama or even beat them, it is a sign that K-State is getting close to competing with the top programs in the country. Alabama will have every excuse in the book if the game is close or they lose. "We didn't want to be here" or "our best players didn't play," blah, blah, blah, but even Alabama's second-string players have more recruiting stars behind their names than anyone on K-State's roster. Those kids will play hard and will be well-coached. If K-State can beat the Crimson Tide, it will be a very positive sign for the program's future.