Trending Now
Pac-12 Believes Deion Sanders Adds Value to Conference for Media Rights Negotiations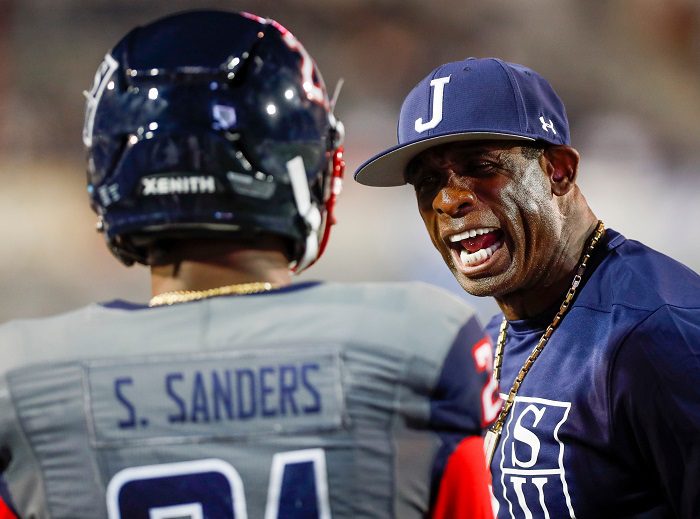 Apparently, the Pac-12 Conference believes that adding Deion Sanders as Colorado's next head coach will save them from dissolving.
For the past few months, the Pac-12 has been seemingly holding on by a thread as the conference's top two brands decided to jump ship and leave for the Big Ten in 2024.
With USC and UCLA headed out the Pac-12 is in a vulnerable position, and that has shown with media rights negotiations on the table. Despite opening an exclusive negotiating window with its television partners, the conference was unable to secure a new deal and instead watched the Big 12 do just that weeks later.
Now, Coach Prime is the conference's saving grace? Well, according to Pac-12 commissioner George Kliavkoff, yes.
Well, with a bit of context added in, it's easy to see what Kliavkoff is getting at here. Jon Wilner of the Pac-12 Hotline spoke with Kliavkoff about his statement on Coach Sanders' addition to the conference, and the commissioner gave a bit of context on his comment.
"A single coaching hire doesn't materially change the value of your media rights. But hiring Deion will lead to more wins for Colorado, which leads to higher ratings. And ratings are an important measure of media valuation," Kliavkoff told Wilner.
Now, that does make sense and there is logic behind it. However, to say that he's going to take 1-11 Colorado and turn them into enough of a winner that it's going to make a difference in media rights negotiations? Yeah, I'll believe it when I see it.
Until then, I'm going to watch Coach Prime turn Colorado into a winner and see them join the Big 12 next summer.