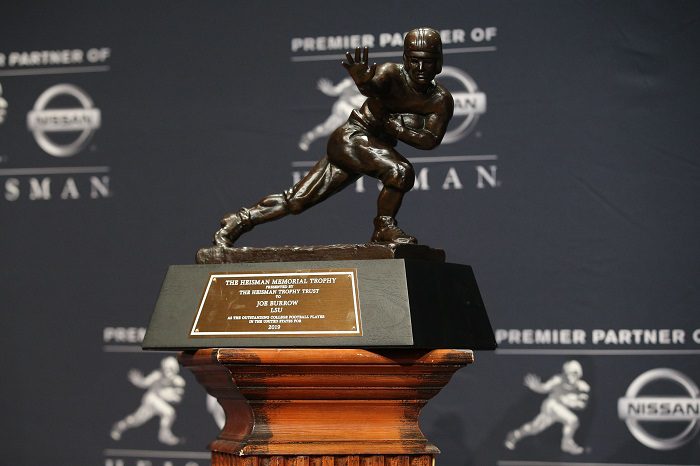 It's that time of the year where the college football awards are being handed out and after a big night on Thursday for the Big 12 Conference, there is still one big award left. That of course is the Heisman trophy which is the most prestigious award in all of college football.
The Heisman is awarded to the most outstanding player in college football which is often quarterbacks. And speaking of quarterbacks, there are four of them going to be in New York City on Saturday night for the ceremony. Let's take a look at the four candidates and see who should win.
Georgia QB Stetson Bennett
Stats: 69% completion percentage, 3,425 passing yards, 20 passing touchdowns, six interceptions. 184 rushing yards, seven touchdowns. Helped Georgia to 13-0 record, SEC title and second straight appearing in the College Football Playoff.
My thoughts: Let's just be completely honest here, if not for the undefeated record, I don't think Stetson even makes the trip to New York. His numbers are good but not great in my opinion. In fact, he only had two games all season where he threw for more than two touchdown passes. Does anyone truly ever think that Georgia couldn't win without him? I certainly don't. He is here because he is the quarterback of the best team in college football and the defending national champs.
Ohio State QB C.J. Stroud
Stats: 66% completion percentage, 3,340 passing yards, 37 passing touchdowns, six interceptions. 74 rushing yards. Helped Ohio State get to the College Football Playoff with an 11-1 record.
My thoughts: While he was a preseason favorite to get to New York City, this season didn't turn out to be all that magical with a bad loss to Michigan just a few weeks ago in Columbus. One could argue that he was the front runner up until late October. In his first seven games, Stroud threw 28 touchdown passes. However, he hit a bit of a wall in the final five games including a bad performance against Michigan (2 interceptions) and Northwestern where he threw for just 76 yards and zero touchdowns. Plus, his team lucked their way into the playoff as they never even won their own division or played in the conference championship game. And was there ever a Heisman moment from Stroud? I don't think so.
USC QB Caleb Williams
Stats: 66% completion percentage, 4,075 passing yards, 37 touchdowns, four interceptions. 372 rushing yards, 10 rushing touchdowns. Led USC to an 11-2 record and a Pac-12 Championship appearance.
My thoughts: Much like C.J. Stroud, Caleb Williams was a heavy favorite to get to New York this season. He certainly has the numbers to back up his case and he plays for one of the bluebloods of college football which will only help his case. If Caleb were a junior, he would be a lock for the number one pick in next year's draft but he's only a true sophomore. Williams has had some big moments this season and one could argue that he is the most talented player in this group. He has a lot going for him between the numbers and the school he plays for.
TCU QB Max Duggan
Stats: 65% completion percentage, 3,321 passing yards, 30 passing touchdowns, four interceptions. 404 rushing yards, six rushing touchdowns. Led TCU to a 12-1 record, and an appearance in the Big 12 championship game and the College Football Playoff.
My thoughts: Max is the true underdog story in college football. Going into the season, we weren't even sure that he was going to be the quarterback for TCU, and he ended up not only just winning the job but taking TCU to places they have never been. He has willed his team all season long and led them to a 12-0 record in the regular season and a spot in the Big 12 title game where his team came up less than a yard short. Despite the loss, TCU still made it to the College Football Playoff. Much like Caleb Williams, Max has certainly had some big moments this season. On several occasions, Duggan would be the one to lead his team to a late victory.
Final Thoughts
If you read my thought on each player, there are two guys who are head and shoulders above the rest. This Heisman race should be between Max Duggan and Caleb Williams. No offense to C.J. Stroud or Stetson Bennett but neither player had those moments like the other two. As for Max and Caleb, both of them are deserving of the award. Both players have great numbers but only of them is in the College Football playoff.
If you are wanting flash, then Caleb Williams is your pick. One could make the argument that he is the most talented player in the sport and rightfully so. Caleb is an electric and exciting player to watch. He's a big part of the turnaround at USC and will likely be the top pick in the 2024 NFL Draft.
However, if you are looking at the most valuable player, Max should be the guy who wins it. No player in college football is more valuable to their team than Max Duggan. He bailed out TCU time and time again in key victories this season. Think about this. TCU was picked to finish seventh in the Big 12 preseason poll. Nobody and I mean NOBODY was expecting anything out of TCU or even Max Duggan who didn't even start the first game of the season.
Max came out of nowhere and led his team to a perfect 12-0 record in the regular season and a trip to the Big 12 title where they fell short. But keep in mind, on the final two plays of TCU's overtime drive, the ball was taken out of his hands. Had offensive coordinator Garett Riley left the ball in Duggan's hands, TCU may be 13-0 as the Big 12 champions.
Even in that loss, Max put the offense on his back rushing for 95 yards on their final drive of regulation to tie the game up. To me, Max Duggan is everything that the Heisman Trophy represents. He is the most valuable player not only to his team but in the entire country. I just hope that some of the voters didn't cast their ballots early because that would be a shame. What Max has done this season had been incredible and I hope he walks out of New York holding up the Heisman trophy.