Big 12 News
Chris Beard's Attorney Says Client is '100% Innocent'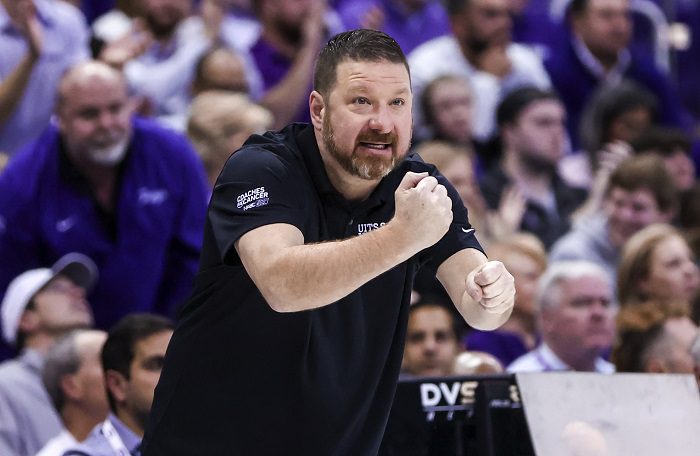 Texas basketball coach Chris Beard was arrested early on Monday morning, and his attorney has spoken out on behalf of his client.
According to records from the Travis County Sheriff's Office, Beard was arrested at 4:18 a.m. in Austin for "Assault on a family/household member." He also apparently was preventing the victim from breathing. Beard was booked with a third degree felony, which carries up to 10 years in prison, if convicted.
"Coach Beard is 100 percent innocent of these charges," Austin attorney Perry Minton said, according to KVUE's Tony Plohetski. "He should have never been arrested. The complainant wants him released immediately and all charges dismissed. It is truly inconceivable."
The University of Texas released a statement on the situation on Monday: "The University is aware of the situation regarding Chris Beard. We are continuing to gather information and monitoring the legal process."
Beard is in his second season as the head coach of the Texas basketball program. He took the job prior to the 2021 season after a successful run at Texas Tech. Beard spent five seasons in Lubbock, where he led the Red Raiders to an NCAA Championship Game appearance in 2019 and finished with a 112-55 record. In his first year with the Longhorns, Beard went 22-12 and 10-8 in Big 12 play. Texas made the NCAA Tournament, but lost in the second round. Beard had a ton of returning talent this season and has the Longhorns off to a 7-1 start and ranked No. 2 in the country.
The future of Chris Beard coaching the Texas Longhorns is obviously in doubt for the short-term and long-term, and we will provide any updates here at Heartland College Sports.
Texas basketball is set to play Rice on Monday Night. The game tips off at 7:00 p.m. on the Longhorn Network.