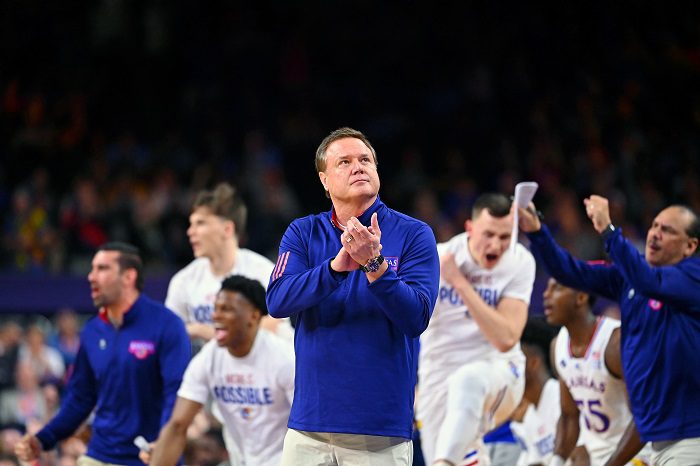 The fifth week of Big 12 men's basketball saw some great games and a couple of upsets. Here are our five takeaways from the fifth week of the 2022-23 season.
Don't forget about our new feature for men's basketball — Daily Fantasy Lineups. Every night a Big 12 team is part of the Draft Kings pool, I'll provide my picks for the game, along with my complete lineup. The hope is that by Big 12 play I'm able to put together a full Big 12 lineup during conference games.
Texas Worries?
Of course, these worries now exist on and off the court. Let's start off of it, where Chris Beard was arrested early on Monday morning. According to records from the Travis County Sheriff's Office, Beard was arrested at 4:18 a.m. in Austin for "Assault on a family/household member." He also apparently was preventing the victim from breathing. Beard was booked with a third degree felony. As more news unfolds on this front, Heartland College Sports will have you covered.
Now for on the court: Anytime an undefeated and ranked team loses its first game, there is a tendency to overreact. Texas fans might have overreacted a bit to the Longhorns' overtime loss to Illinois. Especially the WAY the Longhorns lost, blowing a 10-point lead in the final 7:22 and getting single-handedly dominated by former Texas Tech forward Terrence Shannon Jr.
Well, a couple of things. First, that was an evenly-matched contest. Both of those teams have Sweet 16 aspirations. Illinois matched up well with Texas, especially inside. I wouldn't be shocked if the two played each other again in the NCAA Tournament.
Second, a couple of things that have consistently dogged Texas cropped up in this game. First, late-game execution was lacking on the offensive end. That's not a Chris Beard thing. That's going all the way back to Shaka Smart as coach. The Longhorns made mistakes it can't make in March. Also, the 3-point shooting. Texas shot 31.8 percent from the 3-point line. Again, this isn't just a Beard problem. This program, for the past several years, just hasn't been a good 3-point shooting team across the board. As a team, Texas is 29.3 percent.
The late-game execution is something Texas can work on and correct. The 3-point shooting? Tyrese Hunter is their best at 36.4 percent. Someone on this team will have to prove they can step up and hit daggers from distance repeatedly. Success in the Big 12 and in the NCAA Tournament demands it. That's the piece I'd be more concerned about.
The chemistry is far ahead of last years. This is a team with Sweet 16 potential. But those two pieces could hold Texas back.
The Border Blowout
One might have thought that with the Border War (sorry, Border Showdown — whatever) being in Columbia, Mo., might have helped the Missouri Tigers. But, nope. The Kansas Jayhawks blew them out again, 95-67. Four of the five starters were in double figures. Forward Jalen Wilson had a double-double. Gradey Dick gave the Jayhawks a scoring boost in the first half. Kevin McCullar had five steals.
But K.J. Adams' performance was worth noting. The 6-foot-7 sophomore forward had 19 points and six rebounds. The 19 points was a season high and Adams has been building to this type of game. The Jayhawks don't have a traditional pivot like David McCormack last year. But Adams is more athletic and gives the Jayhawks a forward that can crate action inside and outside the paint, with or without the ball.
Wilson is going to be the Jayhawks' best player. But players like Adams are going to help keep this team's five out alignment moving in Big 12 play.
Cyclones Need a Boost (and Here it Comes)
So … that Iowa State-Iowa game on Thursday? Well, that was just one of those nights. But the Cyclones do need an offensive infusion.
Here comes Tre King.
Cyclones coach T.J. Otzelberger told College Hoops Today's Jon Rothstein last week that King would get minutes at power forward when the Cyclones face Western Michigan this week.
You probably only know who King is if you follow Big 12 basketball, or Iowa State basketball, closely. King is a senior forward who, while at Eastern Kentucky in 2020-21, averaged 14.9 points, 6.2 rebounds, 1.5 steals and 1.2 blocks per game. He also earned First-Team All-Ohio Valley Conference honors. That was his second straight season with at least 11 points.
After the season, he took advantage of the transfer portal and moved on to … Georgetown. But he didn't last long. Per the Des Moines Register, King transferred to Georgetown but did not play any games after the school announced that he was no longer a member of the program due to King not meeting the "conduct expectations of the University."
After that, King transferred to ISU The Cyclones were hoping to get a waiver for him to play last year, but it never materialized. He is eligible to play his first game against WVU.
The Cyclones need more frontcourt scoring right now. Their top interior scorer is transfer Osun Osunnyi, who was averaging about 10 points per game. From there, the Cyclones have Aljaz Kunc and Robert Jones. King would give the Cyclones a fourth rotation player and allow them to go bigger, and not sacrifice scoring, when they need it.
But, let's keep expectations in check. He hasn't played a college game since March of 2021. But the good news for ISU is that they're finally going to get to see what they have.
Get to know David N'Guessen
One of the best individual games of the week came from Kansas State forward David N'Guessan. He scored 23 points in an 81-64 win over Abilene Christian. You'll take that any night.
But it's not often N'Guessan does that the way he did it.
He was perfect from the field — 9-for-9. That included a 3-pointer. He could have had close to 30 points had he shot better from the free-throw line, where he was 4-for-11.
The 6-foot-9 N'Guessan is one of the many transfers who joined Kansas State after coach Jerome Tang took over. He played in nearly every game with Virginia Tech for two seasons and went to the NCAA Tournament each year. But, playing time was he was a role player averaging 3.3 points and 2.6 rebounds in 12 minutes per game.
So far with Kansas State he's averaging 7.9 points and 4.9 rebounds in 23 minutes per game.
For Kansas State to return to the NCAA Tournament, they can't just ride the considerable ability of guard Markquis Nowell and forward Keyontae Johnson. The Wildcats will need contributions from others. N'Guessan — who has now started all but one K-State game so far this season — is showing he can be one of those contributors.
Update from Lubbock
We should get an update on the progress of forward Fardaws Aimaq and his potential return from the foot injury that occurred during summer workouts.
When I talked with Texas Tech coach Mark Adams at Big 12 media days, he said they were "hopeful" Aimaq could be cleared by the start of Big 12 action. Aimaq said the same thing.
Getting Aimaq back in the lineup would be a boost for the Red Raiders, who have struggled to find consistency this season. The win over Nicholls State last week was, well, tricky to say the least.
As a reminder — Aimaq averaged 18.9 points and 13.6 rebounds per game last season for Utah Valley. He would give the Red Raiders an intriguing wrinkle on both ends. He could switch time with fellow 6-foot-11 forward Daniel Batcho or be used as a potential twin towers alignment on the floor at the same time. That is an alignment I think Big 12 teams would have trouble with.
But Aimaq has to get back on the floor first.
You can find Matthew Postins on Twitter @PostinsPostcard