Big 12 News
Growing Momentum for Oklahoma and Texas to Leave for SEC in 2024: Report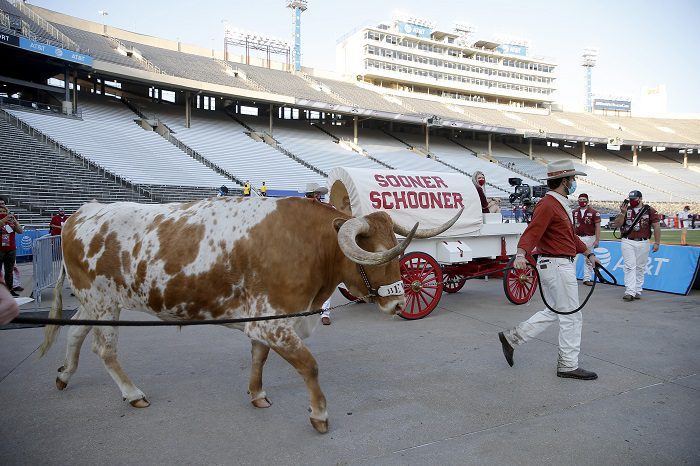 According to a report from Action Network's Brett McMurphy, there is "growing sentiment" and "momentum" for Oklahoma and Texas to leave the Big 12 a year early and join the SEC in 2024.
The Big 12's grant of rights is set to expire on July 1, 2025 and both OU and Texas have indicated on several occasions that they are committed to sticking around until then before moving on to the SEC.
However, the timetable has been accelerated, and according to McMurphy, the plan to move early could be completed by next month.
There are several roadblocks keeping the Sooners and Longhorns in the Big 12 at the moment, but there are a lot of pieces at work that would like to see this thing get done before 2025 comes along.
"There's a lot of moving parts, but there is the desire on many fronts for this to get done," a source told McMurphy.
In McMurphy's report, there are three factors that have led to an increasing likelihood that we see Oklahoma and Texas make the move in 2024.
The Big Ten grows to 16 teams with the addition of USC and UCLA in 2024, coinciding with the first year of the College Football Playoff's expansion to 12 teams.
The Big 12 decided to add four teams in 2023 — even before OU and UT remained in the league.
The Big 12 securing its new media rights deal.
It's no secret that Oklahoma and Texas would like to move on as early as possible, and the Big 12 would like for this to be finalized as well. As with all things, money is the one thing holding this back from becoming a reality right now.
"There have been ongoing discussions to find a way for Texas and OU to leave early without costing (the Big 12) any money," an industry source told McMurphy. "However, everyone has to be made whole."
McMurphy says that everyone being "made whole" is the sticking point for this whole things.
The Big 12 bylaws require Oklahoma and Texas to pay an exit fee equal to the sum of the leagues' distribution for two years, which comes out to about $84 million per school. In years' past, schools that leave their conference are typically able to negotiate the exit fee down to around 60% of the asking price, meaning ~$50 million is the magic number for OU and UT.
Sources tell McMurphy that OU, Texas and the Big 12 have been involved in discussions for months but still have not reached a final agreement on the schools' buyout amount. Add to that the new SEC deal (a 10-year media rights deal with ESPN worth around $300 million) that includes a pro rata clause that requires ESPN to pay the SEC the same amount per school for any new members, and things get complicated.
"How eager is ESPN to pay that increased amount to the SEC in 2024 instead of waiting until 2025," McMurphy asks. "If OU and Texas join the SEC early, that could decrease the value of the Big 12's final year of its current media rights with ESPN and FOX, which the Big 12 would oppose.
"Would ESPN be willing to offset those smaller numbers to the Big 12 and also pay more to the SEC? Would OU and Texas agree to pay more than the expected $50 million buyout to get out early? Would — or even could — OU and Texas schedule nonconference road games at Big 12 teams in 2024 to help offset the decrease in the media rights for that year?"
"The Big 12 would like it to happen a year early, the SEC would like OU and Texas a year early, but FOX could care less and I'm not sure what ESPN will do," an industry source told McMurphy.
Added another source: "ESPN has all the keys to the castle for this to happen."