Baylor Bears
Kansas No. 1 in Big 12 Men's Basketball Power Rankings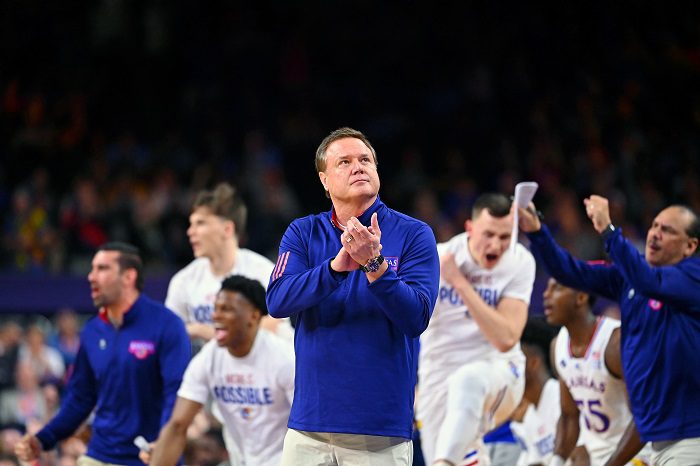 The Texas Longhorns are No. 1 in the first Heartland College Sports Big 12 men's basketball power rankings After Week 5 of the 2022-23 season. Our Power Rankings will appear every Monday.
1. KANSAS (9-1: Last Week — 2)
Kansas didn't just beat Missouri. The Jayhawks dominated Missouri to the point where it made Missouri head football coach Eliah Drinkwitz's 'Five Level I Violations' sign seem pointless. There may not be a better starting five in the Big 12 right now. File away K.J. Adams. He could be a real problem for the rest of the Big 12 come January.
2. TEXAS (7-1: Last Week — 1)
No need to punish the Longhorns too much for the overtime loss to Illinois. Texas knows what it needs to work on now — late-game execution and shooting better from the arc. They did miss out on a potential No. 1 ranking in the nation as No. 1 Houston lost to Alabama on Saturday.
3. BAYLOR (7-2: Last Week — 4)
Baylor won't play again until Sunday when it faces Washington State in the Pac-12 Coast-to-Coast Challenge. But, last week the Bears handled Tarleton with relative ease. Baylor has a 2-1 record against ranked teams and Adam Flagler is shooting better than 50 percent from the 3-point line. No, not the field. The 3-point line.
4. KANSAS STATE (9-1: Last Week — 5)
David N'Guessen had a perfect night from the field in scoring 23 points against Abilene Christian early in the week. Then, the Wildcats took care of Incarnate Word on Sunday. The Wildcats are knocking on the door of 10 wins before Big 12 play. K-State gets Nebraska on Saturday and after the Cornhuskers nearly beat Purdue in Lincoln, this game looks really interesting.
5. IOWA STATE (8-2: Last Week — 3)
Iowa blew Iowa State away in the Cy-Hawk. I mean, it wasn't close, and it exposed what can happen when the Cyclones struggle offensively. Against McNeese State the Cyclones bounced back to win. They'll get Tre King back this weekend and we'll see if the transfer's presence helps the Cyclones on offense. On defense? No worries.
6. TCU (8-1: Last Week — 7)
TCU just can't stay healthy. Guard Mike Miles was sick for part of the week and forward Emanuel Miller is battling a back issue. But the Horned Frogs keep on winning and doing it with quality play from its entire team. TCU has a six-game winning streak entering a week in which it will only play Mississippi Valley State on Sunday.
7. TEXAS TECH (6-2: Last Week — 6)
Texas Tech really struggled against Nicholls State last week, to the point where I thought I had picked the wrong mid-major danger game of the week. But the Red Raiders overcame the Colonels. Richard 'Pop' Issacs is growing by leaps and bounds for a freshman. And more news on forward Fardaws Aimaq coming this week.
8. WEST VIRGINIA (8-2: Last Week — 8)
West Virginia's win over UAB was a solid win over a quality mid-major team. The better part is the Mountaineers shot 50 percent in this game. This is turning into a fun team to watch with more balance than I expected when the season started.
9. OKLAHOMA (7-3: Last Week — 9)
Give the Sooners credit for challenging itself with a stretch that has included Nebraska, Seton Hall, Ole Miss, Villanova and Arkansas. But the Hogs were the one ranked team in the bunch and the Sooners lost that neutral site game by 10 points. Grant Sherfield is going to be fun to watch in Big 12 play, if you haven't had a chance to watch him yet.
10. OKLAHOMA STATE (6-4: Last Week — 10)
Oklahoma State has played a schedule that has included three Power 6 schools and a future Big 12 rival in UCF. The Cowboys are 1-3 against that group this season. The record doesn't look great right now compared to the rest of the conference. But I have no doubt the Cowboys will be a tough out in Big 12 action.
You can find Matthew Postins on Twitter @PostinsPostcard.