Baylor Bears
Kansas Women No. 1 in Big 12 Basketball Power Rankings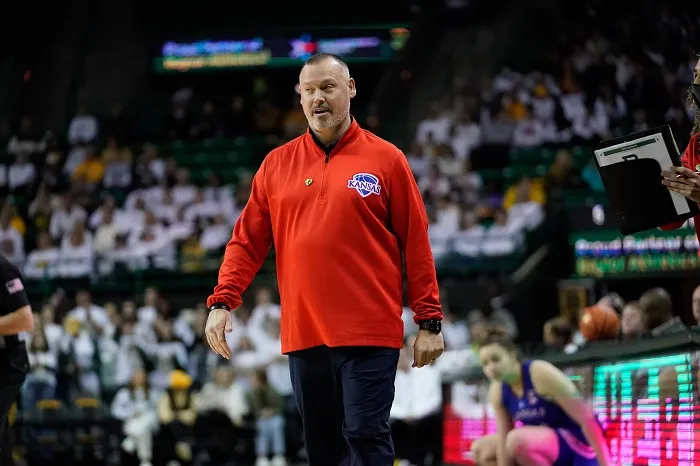 The Kansas Jayhawks are No. 1 in the Heartland College Sports Big 12 women's basketball power rankings entering the fifth week of action. Our Power Rankings will appear every Monday during non-conference action.
1. KANSAS (9-0: Last Week — 2)
The Kansas Jayhawks are playing the best basketball in the Big 12 right now. The Jayhawks were dominant in a road win over No. 12 Arizona, and then came back to Lawrence and didn't get caught sleeping against Wichita State. Taiyanna Jackson has an early track on player of the year honors in the Big 12.
2. IOWA STATE (7-2: Last Week — 1)
Iowa State's loss to Iowa as, well, one of those games. But it also showed the Cyclones where they need to shore things up as they prepare for Big 12 play. I'll be watching the Villanova game later this week with a lot of interest. We'll see if the Cyclones can bounce back from two ranked losses.
3. BAYLOR (7-2: Last Week — 4)
Baylor gets a nudge up after just laying a haymaker on UT Arlington. But I'm still not sure just how good this team can be without Aijha Blackwell and Dre'una Edwards. Blackwell posted on social media that she's looking forward to rejoining the team, but there's no timeline. But at least that injects some optimism into the situation.
4. KANSAS STATE (9-2: Last Week — 3)
The loss to South Dakota State was a bit out of left field, given how well K-State has played all season. But even in defeat, Gabby Gregory put together a 31-point game. I'm really intrigued by how Big 12 teams are going to slow her down next month. I mean, they should have some clue since she played at Oklahoma for three seasons. But, there something different this season.
5. OKLAHOMA (8-1: Last Week — 5)
The Sooners beat Robert Morris on Sunday to claim their eighth win of the season. I still feel like OU isn't quite 100 percent together yet. But, the work by the Sooners' bench is what is going to make them hard to deal with in the Big 12.
6. OKLAHOMA STATE (8-2: Last Week — 6)
The Cowgirls hold steady for now. Those transfers have made a big difference. Four of them now had at least 1,000 career points.
7. TEXAS TECH (8-1: Last Week — 7)
Texas Tech has won seven straight games. But, aside from Colorado, the Lady Raiders are beating teams they should beat. It will take until New Year's Eve before Tech faces a ranked team. And that's Iowa State.
8. TEXAS (5-4: Last Week — 9)
Texas moves up a spot as the Longhorns start playing better basketball (but they still have a ways to go). The good news is that five different Longhorns are averaging at least 10 points. Texas gets USC on a neutral site this weekend. That should suffice for a progress report.
9. WEST VIRGINIA (7-2: Last Week — 8)
West Virginia's new offensive system seems to really agree with holdover guard Madisen Smith, who might be one of the best players we're not talking about right now. The Mountaineers missed out on a chance to claim a big Power 5 road win at Penn State.
10. TCU (4-5: Last Week — 10)
The fight against George Washington aside, I have a hard time seeing the Horned Frogs pulling a .500 record in Big 12 action.
You can find Matthew Postins on Twitter @PostinsPostcard