featured
There are No Winners in the Chris Beard Saga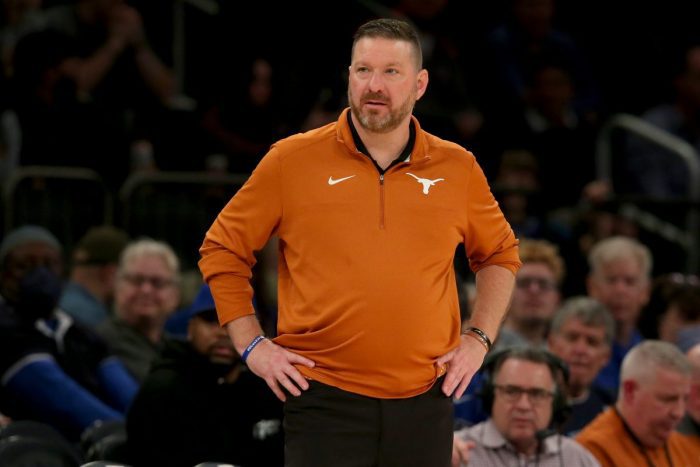 With the start of a new week, came some shocking and disturbing news out of Austin. Head Coach Chris Beard was charged with felony third-degree assault, against presumably his fiance. To be clear there are no winners in this situation, not Chris Beard, not the fiance, and certainly not the three daughters, who started their week off with headlines of their father in jail for domestic assault. As someone who went to Texas Tech during Beard's first four years there, I certainly wanted him to fail in Austin, but never in a way that would have this magnitude of a toll on his family. Texas looked like early Final Four contenders with wins over Gonzaga and Creighton, and they looked impressive while doing it. Chris Beard was killing it on the recruiting trail, especially with transfers, and it looked like he was making a huge leap in year two. But with Monday's news, the question is now where do both Chris Beard and Texas basketball go from here?
What Happened?
When the news first broke there was a lot of confusion over what had happened. We knew the police were called to Beard's house around 2:00 a.m., and Beard was booked around 4:00 a.m. Speculation swirled around what happened, some had theories that it was one of his daughters sneaking out at that hour. There was another theory that it was one of his daughter's boyfriends doing something, and he was protecting her. In that theory, you could probably see a scenario where Beard stays as Head Coach and really isn't crucified for it. After all, if it was a boy around the age of 18, and he was protecting his daughter, not a ton of people would have a huge problem with it. Until Monday night all we really had were rumors, and damaging photos of Chris Beard staring down in a striped jumpsuit.
By Monday evening, however, the horrible situation got even worse for Beard as the affidavit was released. In the affidavit, it became obvious that the victim was his fiance, per her account of events it started when she confronted Beard in the guest bedroom. She became frustrated with Beard not responding and broke his glasses, then returned to the master bedroom. 10 to 15 minutes after that Beard came in, and she offered him new glasses, he was accused of slapping her glasses off of her face. After that, she reached to pick them up, and Beard threw her from the bed and choked her for around five seconds, cutting off her breathing. It's also alleged that he bit her during all of this.
Now, this is all one side of the story, but his fiance had scratches on her back, her right eye, a bite mark on her right arm, a bruise on her left leg, and a cut on her left hand. Chris Beard is definitely entitled to due process, and the University will likely have its own investigation as well, as they decide the next course of action. Beard's lawyers have claimed that the fiance didn't even want Beard arrested. Beard also told police that he had audio recordings proving that he wasn't the aggressor, though he notably refused to show that to them.
What's Next?
Now as I said before Chris Beard is entitled to due process, and the University should investigate the matter if terminating him before the court process plays out is necessary. The affidavit is pretty damning from an outside view, if she really did have bite marks on her, and was choked it's difficult to see how that could've been done out of self-defense. Even without that, the typical rule of thumb for men is to walk away from the situation, and it's at least clear that much wasn't done. It's an undoubtedly ugly situation, and one that's tough to fathom, especially when part of Beard's job is to be a leader of young men.
Right now it seems difficult to imagine that Beard can remain at Texas, and it seems doubtful that another major job will come calling anytime soon, maybe ever. If what happened is true, it's certainly Beard's fault, and he frankly doesn't deserve to coach for quite some time. Even if the story isn't fully true, and in a way that would allow Texas to keep him on, it's tough to see how he could remain as successful on the recruiting trail.
While basketball is clearly second in a situation like this. It's worth noting there are young men on that team that hasn't done anything wrong, and still have a season ahead of them. Very talented players as well, and a team that can still go deep into the tournament and compete for a Big 12 title. Rodney Terry was appointed as Head Coach for Monday night's game with Rice, a position he held at UTEP from 2018-21. In addition to Terry, Chris Ogden is also on staff and was Head Coach at UT-Arlington in that same time span. Texas still has a talented team, and two coaches with Division One Head Coaching experience. 
On Monday night a clearly distracted Texas team struggled with Rice, winning 87-81 in overtime. What looked like it could be a dream first season in the Moody Center, has quickly descended into a crisis on a December morning. It's a brutal blow to the players who had nothing to do with the situation, but hope is far from lost in Austin for this team.
Basketball is Secondary
While this is a sports site, in this story sports needs to come second. The process needs to play out, Chris Beard likely needs to seek serious mental help, and work overtime to repair his relationship with his family. If you told me in April of 2021 that I'd be writing an article about Beard possibly being fired from Texas, I would've assumed he failed on the court and Mark Adams was really what made Texas Tech go. But this situation has far more implications than sporting, there's a victim in this case who will undergo her own trauma. Then there are three daughters whose entire family life got completely turned upside down in just a few minutes, and on a national news scale. Hopefully, regardless of what happens professionally, all involved can work their way back from this personally, especially the victim and Beard's daughters.