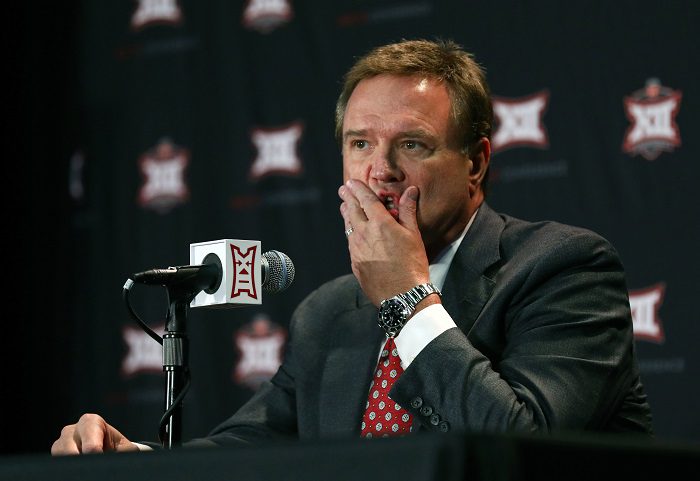 Arizona's final IARP punishment is the clearest indication yet that Kansas basketball can expect a light punishment when it finally gets around to its men's basketball case.
The Independent Accountability Resolution Process (IARP) released its findings and its punishment for the University of Arizona on Wednesday, a school like Kansas that was caught in the net of the FBI's investigation of college basketball several years ago.
The most significant piece of the findings was that former coach Sean Miller — who was assessed a Level 1 coach-control charge — was not punished in any way. Miller is no longer at Arizona and is now the head coach at Xavier.
Arizona also received a lack of institutional control Level I charge in the original case.
The case stemmed from former Arizona assistant Emanuel "Book" Richardson accepting $60,000 in bribes and lack of cooperation in the case as he was caught in an FBI sting operation. Richardson has a 10-year show-cause penalty. Miller maintained from the beginning that he had no knowledge of what Richardson was doing.
But, in 2020, the NCAA wrote in its notice of allegations that "The ultimate responsibility for the integrity of the men's basketball program rested with Miller and his staff's actions reflect on Miller as the head coach."
Arizona fired Miller after the 2021 season.
Ultimately, Arizona received a $5,000 fine, a one-scholarship reduction for the 2023-24 season and a seven-week recruiting communication ban for the 2022-23 academic year. The Wildcats had previously implemented a postseason ban for the program during Miller's tenure.
Kansas' case is still going through the IARP process. Kansas is accused of five Level 1 violations, which are the most severe, while Kansas was also cited with lack of institutional control. There is also a head coach responsibility charge against coach Bill Self.
Earlier this year, Memphis received a reduction in expected penalties after its program was accused of four Level I violations and two Level II violations after an 18-month probe, and head coach Anfernee Hardaway was facing a Level I violation and two Level II violations.
The IARP lowered Memphis' overall violations, did not sanction Hardaway and placed the Tigers on three years' probation through Sept. 26, 2025. The program was also fined $5,000, plus 0.25 percent of their men's basketball budget.
The only self-imposed punishments the Jayhawks have levied to this point is a four-game suspension for Self and his top assistant coach, Kurtis Townsend, at the start of this season. The athletic department also took the pair off the recruiting trail for part of last summer.
The way things are tracking, the Jayhawks should know their punishment by the spring. The way things are looking, the Jayhawks shouldn't expect to receive too much in the way of punishment.
You can find Matthew Postins on Twitter @PostinsPostcard