Football
Brock Purdy Improves to 2-0 as Starter, 49ers Clinch NFC West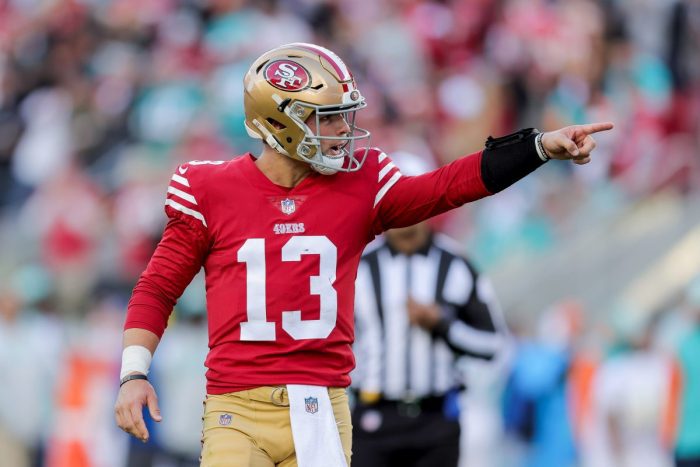 Brock Purdy helped the San Francisco 49ers win the NFC West title in his second career start as they defeated the Seattle Seahawks, 21-13, on Thursday Night Football.
Purdy, the former Iowa State star, was making his prime-time debut as a starting quarterback. Last week, he made his first NFL start against the Tampa Bay Buccaneers in a Sunday afternoon game.
The 49ers (10-4) have won seven straight games and Purdy played the game nursing a rib injury he suffered on Sunday.
Purdy is in the lineup after an injury to Jimmy Garoppolo two weeks ago, who took over the job for opening-day starter Trey Lance, who was injured earlier this season.
Purdy finished the game 17-of-26 passing for 217 yards and two touchdowns. Supported by a running game led by Christian McCaffrey (108 yards) and a defense that held the Seahawks to 13 points, the Niners clinched a postseason berth.
Purdy's first touchdown pass of the game came in the first quarter, a 28-yarder to tight end George Kittle in which Purdy made two different pump fakes before hitting Kittle in a seam up the middle of the field.
San Francisco had a 14-3 lead at halftime after a 1-yard touchdown run by McCaffrey.
In the third quarter, Purdy helped the Niners to a 21-3 lead by again connecting with Kittle, this time on a 54-yard touchdown pass.
Last week Purdy, in a matchup against future Hall-of-Famer Tom Brady and the Buccaneers, threw for 185 yards and two touchdowns in the 49ers' 35-7 victory. He became the first quarterback to beat Brady in his first career start.
The week before, in relief of Garoppolo, Purdy threw for 210 yards, along with two touchdowns and an interception in a 33-17 victory.
San Francisco took him as the final player in the 2022 NFL Draft, earning him the moniker "Mr. Irrelevant." He made the team coming out of training camp as the third quarterback.
Purdy finished his Iowa State career owning or sharing 32 school records. He was the winningest quarterback in school history with a 30-17 record. He was 24-11 vs. Big 12 teams and had a 16-1 record as ISU's starting QB vs. Big 12 opponents in Jack Trice Stadium. He started 46 straight games to end career.
He owns virtually all career school passing records, including passing yards (12,170), total offense (13,347), touchdown passes (81), touchdowns responsible (100), completions (993), passing efficiency (151.1) and completion pct. (67.7).
You can find Matthew Postins on Twitter @PostinsPostcard