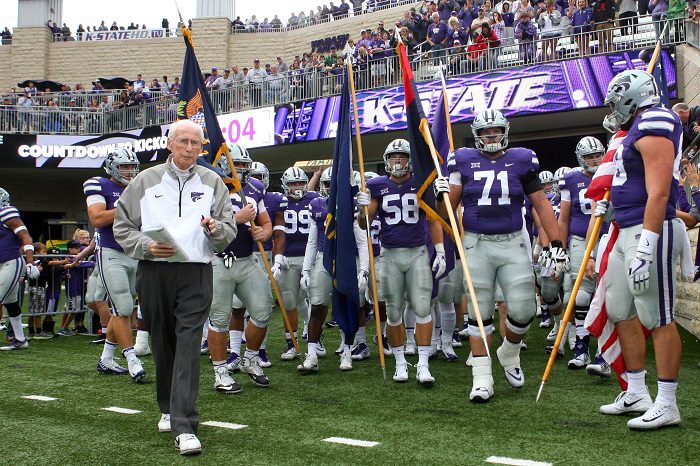 K-State will battle Alabama in the Sugar Bowl a little over two weeks from now, and the K-State fans I have talked to are pretty confident going into the game. Me? Well, you know me. I am always a skeptic. I am worried that this season could end badly for the Wildcats. Why? K-State doesn't necessarily have a great track record in these big-time bowl games.
In fact, I looked back and found that K-State has never beaten a Top-10 team in a bowl game. Why is that relevant to this game? Alabama is currently ranked No. 5 in all the major polls. Can the 2022 Wildcats become the first K-State team to accomplish this feat? It won't be easy.
K-State has had some great teams in the past. There have been a couple that were National Championship contenders. The fact that they haven't beaten a Top-10 team in a bowl game is surprising. The 1998 team led by Michael Bishop might have had the best shot at the national title, but after losing to Texas A&M in the Big 12 Championship game, they got knocked down in the bowl pecking order and ended up losing to Purdue in the Alamo Bowl. The best bowl game victory for K-State (rankings wise) was a victory over No. 14 Syracuse in the 1997 Fiesta Bowl.
Here is a brief look at the bowl games in which K-State has played a Top-10 team.
1997 Cotton Bowl
No. 14 K-State played No. 5 BYU and lost 19-15. K-State led 15-5 in the game until BYU's Steve Sarkisian led the Cougars on two touchdown drives to take a 19-15 lead. K-State had an opportunity to win the game with time running out, but K-State quarterback Brian Kavanaugh threw an interception in the end zone, ending the game.
2004 Fiesta Bowl
No. 8 K-State played No. 7 Ohio State and lost 35-28. K-State had just whipped Oklahoma, "the greatest team in the history of college football", 35-7 in the Big 12 championship game, so K-State was confident going into this match up. Ohio State won the National Championship the year before and still had a great team. K-State quarterback Ell Roberson was accused of sexual assault the night before the game, and there were questions as to whether or not he would play. Ultimately, no charges were filed, and Roberson started the game. The distraction still proved a problem, as Ohio State built a 21-0 lead and held on for the victory.
2012 Cotton Bowl
No. 11 K-State played No. 7 Arkansas and lost 29-16. Arkansas got out to a 19-0 lead. By the third quarter, K-State cut the lead to 19-16, but Arkansas scored the final 10 points of the game to win.
2013 Fiesta Bowl
No. 7 K-State played No. 5 Oregon and lost 35-17. This is the only one of these games I did not attend in person, and I am glad I didn't go. Oregon got out to a 15-0 lead, but K-State cut the lead to 15-10 in the second quarter. Oregon responded with a touchdown, and K-State never got within 12 points. In the end, K-State didn't have enough firepower on offense to get it done against the Ducks.
Looking Ahead…
Can this K-State team buck the trend and get it done against a Top-five Alabama team? If so, it would give them bragging rights as the only K-State team to beat a Top-10 team in a bowl game.
These team has surprised people all season long, so why not once more?