Baylor Bears
Armed Forces Bowl Preview and Prediction: Baylor vs. Air Force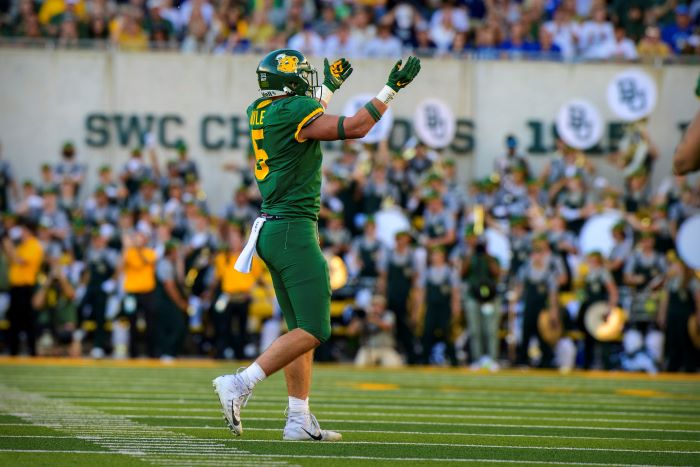 Here is everything you need to know about the 2022 Armed Forces Bowl between the Baylor Bears and the Air Force Falcons.
GAME INFO
Thursday, December 22, 2022; 6:30 p.m. CT; Amon G. Carter Stadium; Fort Worth, Texas
TV: ESPN (Brian Custer, Dustin Fox, Lauren Sisler)
Radio: Baylor Sports Network (John Morris, J.J. Joe, Ricky Thompson)
Records: Baylor (6-6, 4-5 Big 12); Air Force (9-3, 5-3 MWC)
Rankings: Both Teams Unranked
Last Week: Baylor 27, Texas 38; Air Force 13, San Diego State 3
Series History: Baylor leads 3-0
Last Meeting: Baylor 38, Air Force 7 (1977)
Favorite: Baylor (-6)
Fun Fact: The Armed Forces Bowl is held in Amon G. Carter Stadium, the home stadium of the TCU Horned Frogs, Baylor's arch-rival in the "revivalry."
KEY PLAYERS
BAYLOR BEARS
RB Richard Reese
Baylor running back Richard Reese was named the Big 12 Freshman of the Year after setting a school record with 962 rushing yards and also scored 14 touchdowns. Against Air Force, Reese has the opportunity to add to that record and top 1,000 yards on the year and I think he will need to if the Bears want to finish the season with a victory. Air Force leads the nation in total defense and this will be a tough task, but I think the Bears can find some success running the ball with Reese's hands.
LB Dillon Doyle
Senior Dillon Doyle, a fullback on offense and a middle linebacker defensively, became the first player in Big 12 history to be named all-conference at both an offensive and defensive position in 2022. He was named second-team All-Big 12 by the league's coaches at fullback and linebacker. With 78 tackles and two interceptions as a linebacker and a lead blocker in the Bears' running game, it's safe to say that Doyle is as close as there is to the heart and soul of the Baylor football team.
AIR FORCE FALCONS
RB Brad Roberts
Air Force senior running back Brad Roberts set a school record in 2022 with 1,612 rushing yards and earned Mountain West Player of the Year honors in doing so. Roberts capped of 15 drives with touchdowns on the ground this season and rushed for over 100 yards in 10 of 12 games. The Air Force offense will run through Roberts, and if they fail they will try and try again.
S Trey Taylor
Despite Air Force having the nation's top defense, only one player was named to the All-Mountain West team, and that was junior safety Trey Taylor. Taylor was second on the team in tackles (66) and interceptions (2) in 2022, but this defensive unit isn't tops in the country because of one or two guys, they are disciplined and in position across the board.
KEY STORYLINES
BAYLOR BEARS
Can Baylor run the football with success against the Falcons? In their three losses on the year, Air Force allowed 180, 199, and 175 yards on the ground. So, my key for the Bears on Saturday? Get to 200 rushing yards. If the Bears can force-feed Richard Reese in the backfield and have success, they should come out on top in this game. Air Force doesn't want to get into a shootout, and if Baylor can try to force their hand a bit and get off schedule, it will play in the Bears' favor.
AIR FORCE FALCONS
Air Force leads the country in time of possession, rushing offense, and total defense. That makes it pretty clear what they want to do in this game: run the ball, control the clock, and keep the ball out of Baylor's hands. If Baylor can't sustain drives and keep the ball out of the Falcons' hands, it will be tough for the Bears to win this game. This will be an old-fashioned, three-yards-in-a-cloud-of-dust-type game, and Air Force is suited to win those games more often than not.
PREDICTION: Baylor 24, Air Force 21
I believe that the difference in this game will be Dave Aranda's urge to go for it in fourth-down situations. Air Force has gotten people into three-and-out situations a lot this season, but Aranda's squad seems to see fourth down as just another chance to keep the drive alive. If Baylor can convert, which I think they will, the Bears can put up just enough points to win this game. In a low-scoring, grind-it-out effort, Dave Aranda and the Bears churn out a victory and keep the Air Force offense out of the endzone in the end to win the game.