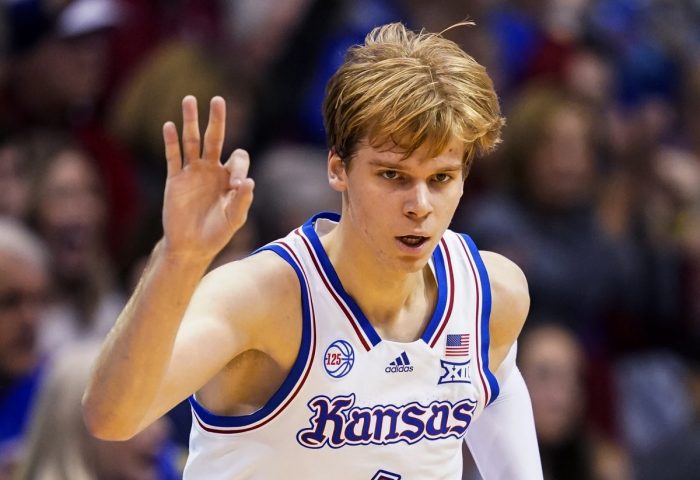 The No. 8 Kansas Jayhawks beat the No. 14 Indiana Hoosiers, 84-62, on Saturday at Allen Fieldhouse in Lawrence, Kan. Here are three thoughts on the game.
How Kansas Won
Kansas shot 60 percent from the floor, freshman forward Gradey Dick had 13 points — and was perfect from the field — and the Indiana Hoosiers had double-digit turnovers as Kansas took a 44-29 lead into the locker room. Plus, the Hoosiers lost one of their best players, guard Xavier Johnson, to a foot injury while he dove for a loose ball in the first half. Indiana, frankly, looked dead.
Well, the Hoosiers had some life to start the second half. They continued a run they started late in the first half and turned it into an 18-6 run that cut Kansas' lead from 42-20 to 48-38 four minutes into the second half.
After the under-16 timeout out came the Jayhawks with a 10-4 run to push the lead back to 58-42. At one point Kansas guard DaJuan Harris scored eight of 10 points for Kansas. Eventually, Kansas pushed the lead to 20 points and the Hoosiers had no answer.
Six different Jayhawks were in double figures —Dick with 20, Jalen Wilson with 11, Kevin McCullar with 11, KJ Adams with 11, Harris with 10 and Bobby Pettiford with 10. McCullar and Harris both had double-doubles. McCullar had 11 rebounds while Harris had 10 assists. It was the first double-double of Harris' career.
Kansas outscored Indiana in the paint, 54-20, and 22-12 on the fast break.
Any Defensive Complaints?
The past few years Kanas coach Bill Self's go-to complaint has been his defense. I'm not sure that's a beef he's going to be able to sell to anyone right now.
Defense was the biggest reason the Jayhawks won on Saturday. They forced 23 Hoosiers turnovers. They scored 28 points off those turnovers. They outrebounded a Hoosiers front line — one that was supposed to give the Jayhawks some trouble — 35-32. Kansas did an incredible job of covering perimeter passing lanes. Five different Kansas players had at least two steals, with Dick and McCullar each with five.
A quick spin over to Ken Pomeroy's ratings shows that Kansas was No. 8 overall going into the game. But click on overall adjusted defensive efficiency and you'll see that Kansas was ranked No. 10 overall. The offense? No. 14.
Texas is the only Big 12 team with a better adjusted defensive efficiency rating than Kansas.
I mean, if Kansas is going to score like this AND defend like this? Good luck. The Big 12 is a gantlet and I doubt Kansas goes undefeated. But, they look the part of the favorite going into league play.
What's Next For Kansas?
The Jayhawks have just one game left before taking a break to rest up for the gauntlet of Big 12 play. The Jayhawks will host Harvard next week. Set for Thursday, the Crimson will come to Lawrence after playing at UC Irvine on Tuesday. Harvard will come in with a record well above .500, though the Crimson haven't played a Power 6 team yet.
After that, Kansas opens Big 12 play on New Year's Eve when the Jayhawks host Oklahoma State at 1 p.m.
You can find Matthew Postins on Twitter @PostinsPostcard