Big 12 News
Bedlam Could Continue After Oklahoma Leaves for SEC: Report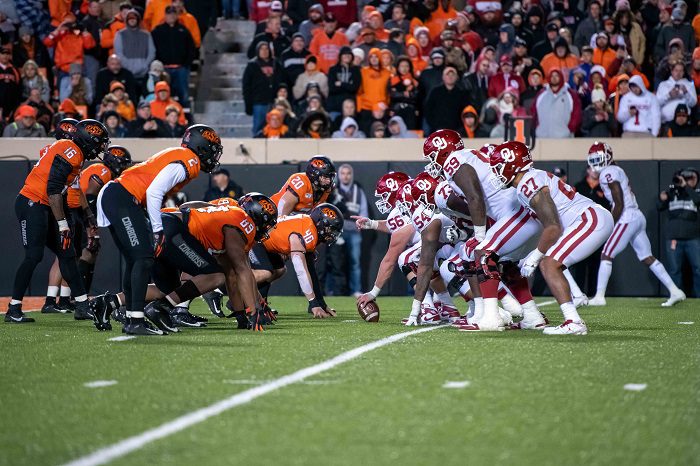 It has been assumed for months that Bedlam would be dead between Oklahoma and Oklahoma State following OU's departure for the SEC. But in the words of Lee Corso, "Not so fast my friend!" Maybe.
A new report from CBS Sports' Dennis Dodd addresses Oklahoma and Texas' plans to try and get out of the Big 12 in 2024 instead of 2025. And a part of that may include having to play future non-conference games against former Big 12 foes, which could lead to the extension of games like Bedlam after Oklahoma joins the SEC.
Dodd reports, "Texas and Oklahoma are using SEC TV consultant Alan Gold to facilitate a deal, sources tell CBS Sports. The idea would be to "use games as currency" — atoning for the viewership decline with Texas and Oklahoma playing a selection of future nonconference games at Big 12 schools.
"They would have to play games in the [Big 12] footprint so Fox and ESPN can have value," an industry source told CBS Sports. "If ESPN and Fox are happy, [the Big 12] would be happy." 
That could potentially lead to the continuation of the Bedlam series between Oklahoma and Oklahoma State that was expected to end when OU joined the SEC in 2025."
Of course, the Big 12 would have the power to go along or ax something like that, however given the fact that the league is remaining in business with ESPN and FOX, it would be wise for everyone to get along, if that offer does come to fruition.
It has been widely reported that the Sooners and Longhorns want out of the league early, as in before the 2024 college football season.
According to The Athletic, the tone really changed between the two sides last week. Big 12 officials held a meeting in Las Vegas, and there was a point in the meeting when Texas athletic director Chris Del Conte and Oklahoma athletic director Joe Castiglione were recused because officials were discussing future business. Following this meeting, "momentum" emerged for an early exit, according to an administrator within the SEC. An administrator within the Big 12 confirmed to The Athletic that the tone in the league regarding this topic shifted after that meeting.
This may be the best move for everybody involved, as the Big 12 is set to welcome in Houston, BYU, UCF and Cincinnati for the 2023-24 athletic season, which was going to create two awkward seasons of 14 members. If Oklahoma and Texas leave early, it will only create one season with 14 members.
On top of that, the SEC's new television deal with ESPN begins that season, along with the 12-team College Football Playoff. Also, this move would match up the SEC's expansion to 16 teams at the same time as the Big Ten's expansion, when they add USC and UCLA.
The buyout remains a sticking point, which could conceivably push $90 million per school, but expectations are that number will be drastically decreased, but the question remains how much. Also of note,
Also, we should keep a close eye on these next two weeks because according to Big 12 bylaws, a member must give at least an 18-month notice of its departure date. That letter would have to arrive by Dec. 31 if they intend to join the SEC on July 1, 2024. However, it's fair to say that date, like everything, is negotiable.