Baylor Bears
Eight Remaining Big 12 Football Teams Saw Nearly 50% Increase in TV Ratings: Report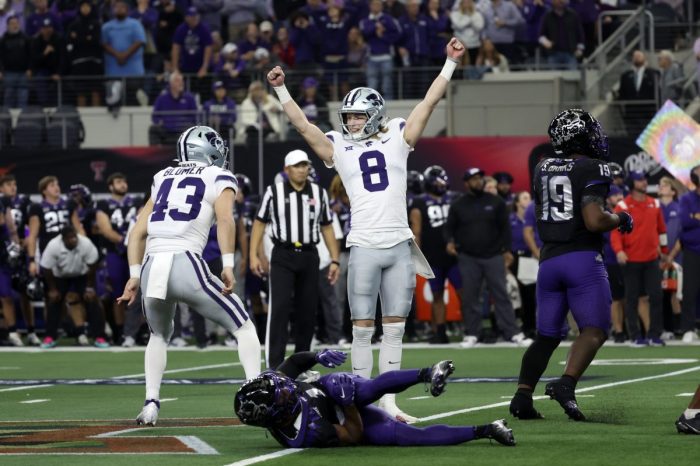 The timing couldn't be better for good television ratings news for the remaining eight Big 12 Conference teams, and according to a new report from Dennis Dodd of CBS Sports, the Big 12 has achieved exactly that.
Dodd wrote an extensive piece on Oklahoma and Texas wanting to leave the Big 12 early, as has been reported by Action Network and The Athletic, and noted that the ratings story from the 2022 college football season has been very positive for the remaining eight teams.
Dodd notes, "OU's ratings were down significantly during an uncharacteristic 6-6 season. Industry analysts told CBS Sports that the ratings of games involving the other eight current Big 12 schools were up almost 50%."
Now if you think about the storylines around the Big 12, this should not be surprising. TCU is heading for the College Football Playoff after an undefeated regular season, Kansas is going bowling after a 5-0 start for the first time since 2008, K-State has had its best season in a decade, while Texas Tech has also turned heads in Joey McGuire's first season. These four teams produced for of the best stories in college football this season.
Brett Yormark could not have asked for a better on-field product than what he got. Had the Sooners and Longhorns steamrolled their way to a Big 12 Championship meeting, the storylines would've been about how the Big 12 would be a Group of 5 conference after the two blue-bloods left. That was always going to be a silly argument, but some in national media would have tried to make it to fit a narrative.
But now, that narrative is definitely dead. And the future of the Big 12 better off for it.
The Big 12's new media rights deal, beginning in 2025, will guarantee league future 12 schools an all-in average figure of at least $48 million, according to Dodd, which is about $5 million more than conference members are presently earning with Texas and Oklahoma.