featured
2022 Big 12 Football Review: Where I Was Right, Wrong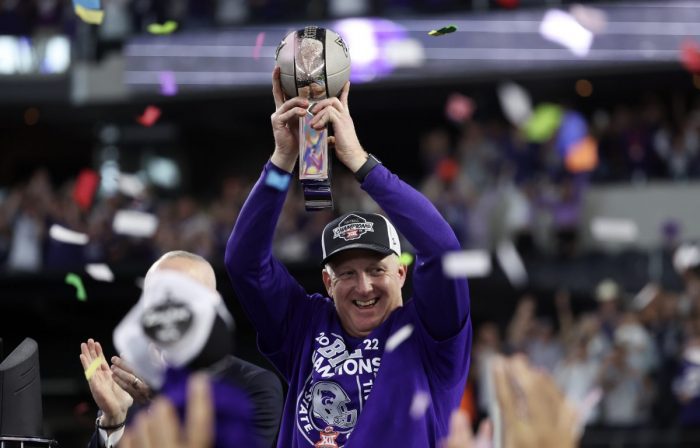 Another great college football season has come and gone. Sure, we still have some bowl games to get through but for some teams, the season is over. Before we know it, July will have come around and we will all be picking our preseason Big 12 teams for next year.
However, before we get into the offseason, I wanted to look back at some of my picks before the season and see how they played out.
Where I Was Right
Kansas State
Now before you disagree, it's not like I completely slept on Kansas State this season. They were my dark horse pick to win the Big 12 which they ended up doing. However, I didn't think Will Howard would be the guy to lead them there. The Wildcats caught fire late in the season and the switch from Adrian Martinez to Will Howard made all the difference. It was a season to remember for Chris Klieman and he's not done yet as the Sugar Bowl awaits.
Texas
The Longhorns ended up finishing third in the Big 12 and I had them right in the middle at number five back in the preseason. I never buy into the Texas hype, but they were just a game away from playing in Jerry World. Bijan Robinson was a stud as I thought he would be, and the defense looked much better this season. In the end, they still ended up in the Alamo Bowl once again.
Oklahoma State
Anytime I am within two spots of a prediction, I consider that a win. I thought Oklahoma State would be a little bit more competitive this season, but the health of Spencer Sanders was just part of the downfall of this team. When Spencer wasn't healthy, this team had no chance to win because they couldn't do anything offensively. And they weren't that great defensively either despite having a talented defensive line. I wasn't expecting the Cowboys to get to Arlington, but I thought they would look better than what they showed us this year.
West Virginia
The Mountaineers ended up finishing ninth in the conference after I picked them seventh in the Summer. I expected some improvements from this team, and I even thought they could sneak up on some folks. Instead, they looked like a team who was about to get their head coach fired. If not for the crazy amount of money owed to Neal Brown, he probably would have been gone after a disappointing 5-7 season. At some point, this program needs to turn things around or else they need to just eat the money and find a new coach.
Where I Was Wrong
Oklahoma
Out of all the predictions I made back in July, this may have been my worst one. In fact, it is the worst one. Oklahoma winning the Big 12? I must have been really high on Brent Venables or something because this was the worst Oklahoma team since 1998. This team was just one loss away from not making a bowl game and this program has a long way to go before being back in the national spotlight.
Baylor
If I had to pick a team I was most disappointed in it would be Baylor. One week they would look like Big 12 title contenders and the next they would look like a team who would go 6-6. In the end, they ended up going 6-6 and are stuck in the Armed Forces Bowl playing on TCU's field. Yikes.
Iowa State
Iowa State at six? Really Derek? What were you thinking man? I have nobody to blame but myself. I knew the Cyclones were going to have a stout defense (which they had), but I had no clue the offense was going to look that badly. They went from 3-0 to 4-8 in a hurry and made coaching changes on the offensive side of the ball that were much needed.
Texas Tech
I will be the first to admit that I wasn't sold on the Joey McGuire hire at first. I didn't think he would get to a bowl game in his first year and he proved me wrong. Not only did he win seven games in year one, but he also finished fourth in the Big 12 Conference which is the highest finish for Texas Tech since 2009.
Kansas
Ok, don't lie because NOBODY saw this coming. Everyone had Kansas finishing dead last in the Big 12 like always because we didn't expect much from this team. Instead, all Lance Leipold did was go 6-6 and get Kansas to their first bowl game since 2008. I can't even tell you how wrong I was about this team.
TCU
Speaking of being wrong, I was way off on TCU. But then again, wasn't everybody? This team and Max Duggan came out of nowhere and shocked the nation by going undefeated in the regular season. Even though they lost the Big 12 title game, they are still in the College Football Playoff where they will face Michigan.