Baylor Bears
AP Top 25 Women: Iowa State Leads Four Big 12 Ranked Teams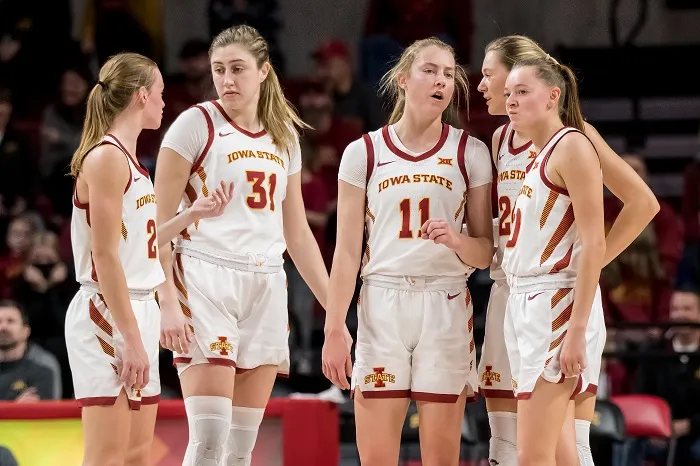 The Iowa State Cyclones are among four Big 12 teams in the AP Top 25 Women's Basketball Top 25, released on Monday after Week 6 of the season.
Those teams included:
Iowa State at No. 14 (No. 14 last week);
Kansas at No. 20 (No. 22 last week);
Oklahoma at No. 23 (No. 24 last week).
Baylor at No. 24 (No. 18 last week);
Kansas (10-0) was in the poll for a second straight week and remained the Big 12's only remaining undefeated team. Kansas can lock in an undefeated non-conference slate if it beats Nebraska on the road on Wednesday.
Iowa State (8-2) lost claimed its first win over a Top 25 opponent on Sunday when it defeated then-No. 25 Villanova in the Hall of Fame Classic. The Cyclones have one more non-conference game coming on Thursday against Drake before a holiday break to prep for Big 12 action on New Year's Eve.
Baylor (8-3) lost its third game of the season on Sunday, falling to Arizona in the Pac-12 Coast-to-Coast Challenge. All three of Baylor's losses have come to ranked teams. The Bears did get back guard Aijha Blackwell, who is on a minutes restriction. The Bears host Long Beach State on Wednesday before a 10-day break to prep for Big 12 action.
Oklahoma (9-1) beat Southern last week to claim its sixth straight win. The Sooners have one more game before the holiday break, as they take on Florida at the Jumpman Invitational in Charlotte on Wednesday.
This week's AP Top 25 women's poll looks like this:
No. 1 South Carolina, No. 2 Stanford, No. 3 Ohio State, No. 4 Indiana, No. 5 Notre Dame, No. 6 North Carolina, No. 7 North Carolina State, No. 8 Virginia Tech, No. 9 UConn, No. 10 LSU, No. 11 UCLA, No. 12 Utah, No. 13 Iowa, No. 14 Iowa State, No. 15 Maryland, No. 16 Oregon, No. 17 Arkansas, No. 18 Arizona, No. 19 Michigan, No. 20 Kansas, No. 21 Creighton, No. 22 Gonzaga, No. 23 Oklahoma, No. 24 Baylor, No. 25 St. John's.
Big 12 teams receiving votes: Texas, 5; Kansas State, 3.
You can find Matthew Postins on Twitter @PostinsPostcard.