Baylor Bears
Kansas Remains At Top of Big 12 Men's Power Rankings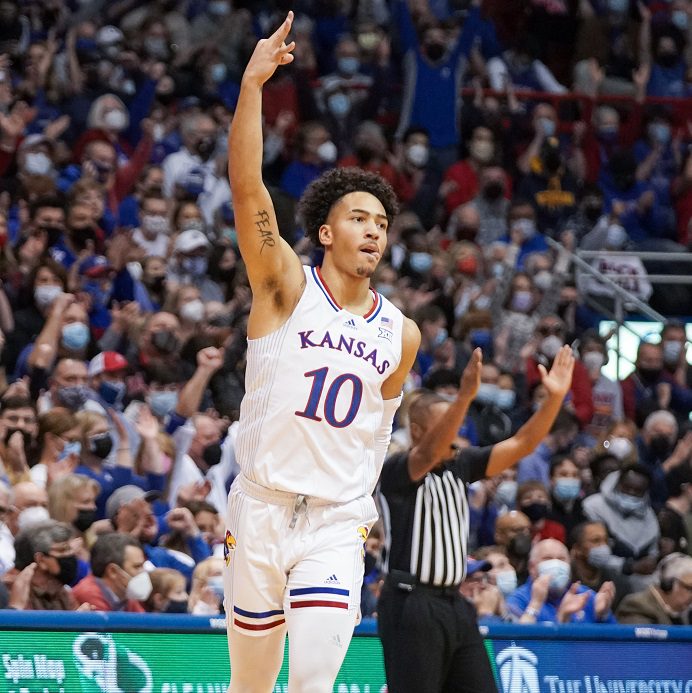 The Kansas Jayhawks are No. 1 in the Heartland College Sports Big 12 men's basketball power rankings after Week 6 of the 2022-23 season. Our Power Rankings will appear every Monday.
1. KANSAS (10-1: Last Week — 1)
So … you saw what the Jayhawks did to No. 14 Indiana, right? Yikes. That was thorough domination. And think about this. Indiana did cut it to 10 at one point early in the second half and Kansas' killer instinct just kicked in. My concern about this team going into the season wasn't Jalen Wilson, Kevin McCullar and DaJuan Harris. It was everyone else. Well, no concerns now. This is the best team in the Big 12 and they're playing like it's already March.
2. TEXAS (9-1: Last Week — 2)
It was a tumultuous week off the court for Texas, as coach Chris Beard was arrested for felony third-degree assault and domestic assault. Rodney Terry is the acting head coach and he stabilized the Longhorns by leading them to two wins over Rice (which went to overtime) and over Stanford (in Dallas). Texas now hosts Louisiana, a team that has only lost one game this season. All of the talent is there. Can they shut out all the noise that's coming in?
3. BAYLOR (8-2: Last Week — 3)
Baylor had a full week off before taking on Washington State in Dallas at the Pac-12 Coast-to-Coast Challenge and came away with the victory. Keyonte George continues to impress. Baylor seems to be getting its legs back and with two more tune-ups left, the Bears look to be ready for Big 12 action in less than two weeks. Don't rule out the Bears winning the Big 12 in the regular season, even as Kansas and Texas have definitely played consistently better than the Bears so far this season.
4. KANSAS STATE (10-1: Last Week — 4)
Kansas State snagged a 15-point win over Nebraska at a neutral site game in Kansas City and looked really good doing it. All that's left is a game with Radford this week and the Wildcats will be 11-1 entering Big 12 action. Last season Kansas State didn't get its 11th win until February. It's a great day to be a Wildcat, as first-year head coach Jerome Tang likes to say. He's got the moves to back it up.
5. IOWA STATE (9-2: Last Week — 5)
Since the loss to Iowa, the Cyclones have taken care of business against McNeese State (77-40) and Western Michigan (73-57). Iowa State also got Tre King on the floor (finally) and he poured in 11 points off the bench. At times, the Cyclones have struggled to score points (if you saw the Iowa game you get it). King brings them a player that has averaged double-digits in each of his last two seasons at Eastern Kentucky. ISU coach T.J. Otzelberger can absolutely use him.
6. TCU (9-1: Last Week — 6)
Just when you thought that TCU was FINALLY complete, Eddie Lampkin Jr. didn't play in the Horned Frogs' relatively easy win over Mississippi Valley State. Xavier Cork had a nice game in his place. But the Horned Frogs need Lampkin for the rigors of Big 12 play, so hopefully he's ready by New Year's Eve. Two more tune-ups await for TCU, including a big road game at Utah, which has won both of its Pac-12 games so far.
7. TEXAS TECH (8-2: Last Week — 7)
So … that was a wild week, right? Fardaws Aimaq was going to transfer and now he's not? He got his foot out of the hard cast on Monday and then chaos ensued. As of now, he's still with Tech. The Red Raiders won both games last week, including a 50-point win over Jackson State in Houston. Keep an eye on the status of the other 6-foot-10 center, Daniel Batcho, who suffered an injury in the Eastern Washington game. Will he be back this week or for Big 12 play? We'll see.
8. WEST VIRGINIA (9-2: Last Week — 8)
As they like to say in Morgantown, "Free Jose," as in allow guard Jose Perez, the Manhattan transfer, to play this season as opposed to blocking his application and giving him an extra year of eligibility. The Mountaineers intend to appeal, but if the NCAA can't solve the Kansas case in four years I'm not sure what the Mountaineers are expecting them to do about this. Meanwhile, the Mountaineers handled Buffalo, got 22 points from Erik Stevenson, and spent the day honoring their Hall of Famer, coach Bob Huggins.
9. OKLAHOMA (8-3: Last Week — 9)
The Sooners had just one game last week and it was a relatively easy win over Central Arkansas, a game in which Jacob Groves had a career night. Guard Grant Sherfield continues to pour it in from deep. The Sooners are at the Jumpman Invitational this week and face Florida, a game the Sooners would love to win for NCAA Net purposes. But they won't reach 10 wins before league action.
10. OKLAHOMA STATE (7-4: Last Week — 10)
Just because the Cowboys are at the bottom of these power rankings doesn't mean they're a bad team. If anything, the Cowboys have challenged themselves this season and three of their four losses have come to Power 6 teams. Now, I do believe there is a slight talent gap between Oklahoma and Oklahoma State, and that could translate in Big 12 play. Or, the script could flip and OSU could start playing like the team I think coach Mike Boynton believes they are. They're not that far away.
You can find Matthew Postins on Twitter @PostinsPostcard.