Baylor Bears
Kansas Remains No. 1 in Women's Big 12 Power Rankings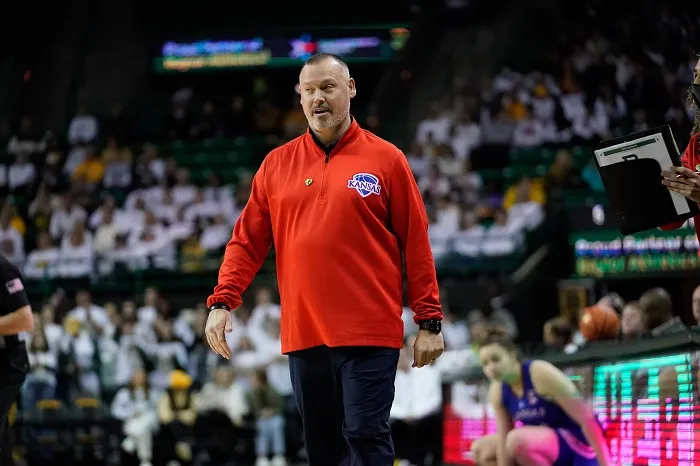 The Kansas Jayhawks are No. 1 in the Heartland College Sports Big 12 women's basketball power rankings entering the seventh week of action. Our Power Rankings will appear every Monday during non-conference action.
1. KANSAS (10-0: Last Week — 1)
So what happens when you get a little success, a national ranking and nearly a week off? Usually bad things. Not for the Jayhawks, who handled Tulsa and got a career game out of Zakiyah Franklin. The balance on this team is going to be what makes it so tough to deal with in conference play. I'm not sure they'll be the best team in the league in March. But they're the team playing the best right now.
2. IOWA STATE (8-2: Last Week — 2)
The Cyclones needed a win over a ranked team after dropping their chances against UNC and Iowa. So, on Sunday, the Cyclones got that, beating Villanova by 12 points. Guard Emily Ryan was named the Basketball Hall of Fame Women's Showcase MVP with 16 points, nine rebounds and 10 assists. You know, just a near-triple double. Or, as we like to say here, Emily Ryan doing Emily Ryan things.
3. KANSAS STATE (10-2: Last Week — 4)
A week off and a win over Northern Colorado was just what Kansas State needed. Plus, Brylee Glenn had a big game for the Wildcats, who had four players in double figures. The Wildcats have Morgan State coming to town this week and, after that, it's a 10-day break before the Big 12 opener at Texas on New Year's Eve.
4. BAYLOR (8-3: Last Week — 3)
The good news is that Aijha Blackwell is back for Baylor. But she's on a minutes count right now as she works her way back from the knee injury. Eventually, she'll hit the starting lineup because she's too good not to be there. Against Arizona, Baylor struggled from the field and struggled to limit Arizona's shooting. Baylor gets one more tune-up against Long Beach State and then a 10-day break before hosting TCU.
5. OKLAHOMA (9-1: Last Week — 5)
The Sooners get their last big test this week at the Jumpman Invitational against Florida. Both teams have one loss entering the game. Meanwhile, the Sooners have won six straight and forward Madi Williams just passed the 2,000-point mark for her career. The Sooners are deep and talented. A win over the Gators would move them into the Top 20.
6. OKLAHOMA STATE (9-2: Last Week — 6)
The Cowgirls matched last year's win total after their 87-62 win over UNLV. One thing the Cowgirls don't lack is the ability to score points, and that will make them a much harder out in Big 12 play than they were last season. Air Force hits town on Tuesday, then it's an 11-day break. File away this name — Lior Garzon. She's dropped high-scoring games on recent opponents and become one of the Big 12's biggest threats from deep.
7. TEXAS TECH (9-1: Last Week — 7)
Texas Tech has won eight straight games, and that's impressive. So is the fact that Bre'Amber Scott is the team's leading scorer and that Rhyle McKinney and Bailey Maupin are hitting better than 40 percent from the 3-point line. Win three more games and the Lady Raiders can carry a 11-game winning streak into the Big 12 opener with Iowa State on New Year's Eve.
8. TEXAS (7-4: Last Week — 8)
Texas won two games last week, including an impressive win over USC in Dallas. But, the Longhorns lost forward Aaliyah Moore for the season and have to reset their frontcourt with two non-conference games remaining. Before the USC win, Texas had beaten three straight SWAC teams. Texas is still working out the overall rotation, but Shaylee Gonzalez's 22-point game against USC was impressive.
9. WEST VIRGINIA (7-2: Last Week — 9)
West Virginia holds steady here. The Mountaineers didn't play at all this week. But, the Mountaineers have back-to-back games in Fort Lauderdale this week against Georgia and Miami (OH) before the holiday break. Something to keep in mind here — WVU has lost both of its games to Power 5 schools. Georgia is unranked but 10-2. This is a great measuring stick game for the Mountaineers.
10. TCU (5-5: Last Week — 10)
That was a nice win over Grambling for TCU. But I can't figure out the Horned Frogs' chemistry yet. There's no problem if I can't figure it out. But if TCU can't figure it out, that's a problem with Baylor less than two weeks out.
You can find Matthew Postins on Twitter @PostinsPostcard