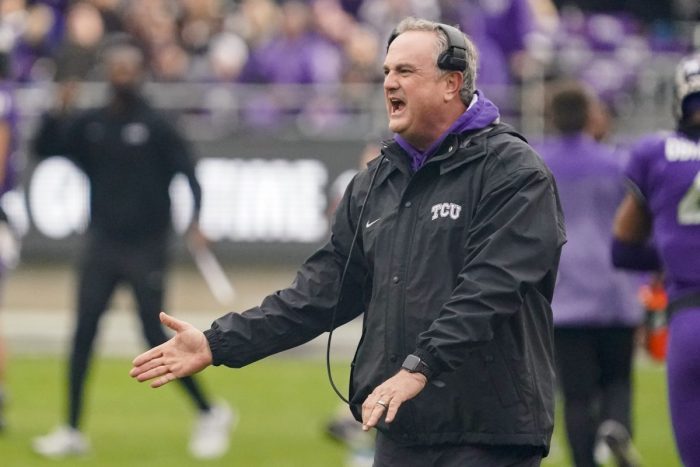 TCU head coach Sonny Dykes has won a laundry list of Coach of the Year honors after leading the Horned Frogs to an undefeated regular season and a College Football Playoff appearance and he has now added to AP Coach of the Year award to that list.
Dykes received 37 of 46 first-place votes and 120 points from AP Top 25 voters to become the second TCU to win the award, according to the Associated Press.
"It's the ultimate team award," Dykes told AP. "It's indicative of literally everybody in our office, coaches, players, everybody, because more so than ever in college football it is truly a team effort."
TCU finished 5-7 (3-6 Big 12) last season, and wasn't expected to be a player in the Big 12 title race this season after being picked to finish seventh by Big 12 media.
Instead, Dykes' Frogs went undefeated in the regular season and have looked like a playoff team since about the halfway point of the year.
Naturally, Dykes won Big 12 Coach of the Year honors (unanimous selection), the Walter Camp Coach of the Year, the Home Depot Coach of the Year, and is also a finalist for the Eddie Robinson Coach of the Year Award.
Now, with his future secured and accolades piling up, Dykes can continue to work at making TCU an annual powerhouse out of the Big 12 Conference.