Baylor Bears
Big 12 Football: Early Signing Day Winners and Losers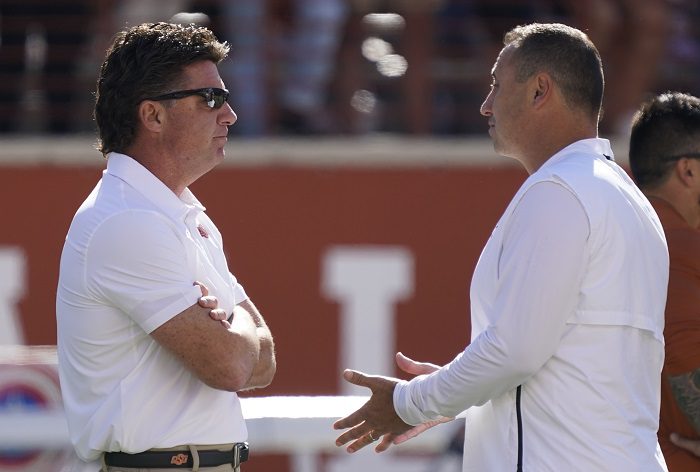 On Wednesday, hundreds of kids across the nation will sign letters of intent to play college football for programs in the Big 12 in 2023.
Some schools in the conference signed who they expected to, while others added a commitment or two that puts quite the bow on a recruiting class that is going to change the trajectory of their program. Meanwhile, there were schools that missed out on some key targets and might be left thinking about what could have been.
Here are the Big 12 Conference's biggest winners, and losers, from Early Signing Day 2023.
Biggest Winners
Texas Longhorns
They've done it. All-world talent and five-star quarterback Arch Manning has officially signed his letter of intent to play for the Texas Longhorns and will be on campus next month. Getting Manning was a fantastic start to this class, but Texas is the biggest winner this week for more than just his signature. The Longhorns also signed the remainder of its commitments today, 22 in total, and has the No. 4 class in the country after signing four-star EDGE Tausili Akana. Manning is joined by three other five-stars in the class: LB Anthony Hill, RB Cedric Baxter, and WR Johntay Cook. Texas will likely make some more additions before all is said and done in February, but getting all of its commitments signed and putting together a top-five class in December certainly makes them a big winner today.
Oklahoma Sooners
Update: Oklahoma might just be the biggest winner of the early signing period now, as Brent Venables and the Sooners were able to flip five-star safety Peyton Bowen just one day after he committed to Oregon. Bowen's commitment helps round out a top-five recruiting class for OU that now has three five-star players, and two of them play defense.
While the Sooners missed out on five-star safety Peyton Bowen and four-star EDGE Tausili Akana, the Sooners are big winners on signing day, and it has everything to do with what they did land. Five-star quarterback Jackson Arnold and five-star edge Adepoju Adeboware lead a class that ranks eighth in the country and is as balanced as the Sooners have signed in over a decade. Add in freshman transfer Dasan McCullough and the top JUCO cornerback in Kendel Dolby and you start to see instant-impact guys all over the field. The 2023 class is the highest-rated overall class, by point total, that Oklahoma has ever signed. That alone is incredible, considering that they just went 6-6 and have signed many impressive classes in the past.
TCU Horned Frogs
Just like the Sooners, TCU had a big day as the Horned Frogs inked 22 members of their 2023 class, which is set to be the highest-rated class in school history. Nine four-star recruits signed with Sonny Dykes' squad on Wednesday, led by defensive lineman Marcus Deal and wide receiver Cordale Russell. With TCU playoff-bound, the Frogs are capitalizing on some big momentum for the program by bringing in some of the best talent that the State of Texas has to offer. 20 of TCU's 23 high school commitments and nine of their 10 four-star commits are from the Lone Star State. Plus, you add in four four-star transfers (three of which played Texas HS football) and the Horned Frogs have some serious talent to work with going forward.
Texas Tech Red Raiders
Joey McGuire and the Red Raiders just finished the 2022 season with a 7-5 record and sole possession of fourth place in the Big 12 standings. Now, on early signing day, the Red Raiders are in line to sign a Top-25 class in 2023, something they haven't done since 2011 when the Red Raiders signed the No. 19 ranked class in the country. Texas Tech has filled up its class with West Texas talent and is bringing in some instant-impact guys on the defensive side of the football. The top four signees in the Red Raiders' 2023 class will all play on the defensive side of the ball with S Jordan Sanford and EDGE Isaiah Crawford leading the way. Finishing fourth in the Big 12 standings, and in the Big 12 recruiting rankings, is a terrific start for McGuire and his staff.
Kansas State Wildcats
Kansas State just won its first outright Big 12 title since 2003 and the excitement seems to be carrying over into the recruiting trail as well. On Wednesday, all 26 of K-State's commitments signed their letters of intent and will be part of the best recruiting class that the Wildcats have had in more than a decade with the No. 29 overall class in the nation, according to 247Sports' composite score. Leading the way is Maize (KS) four-star quarterback Avery Johnson, who ranks as the No. 8 quarterback and No. 69 overall player in the 2023 class. Defensively, four-star edge rusher Jordan Allen leads the way out of Olathe (KS) and is the No. 5 player in his state and the No. 42 player at his position. Chris Klieman and the Wildcats have things rolling in Manhattan, and today was a big day for the program going forward.
Biggest Losers
Cincinnati Bearcats
Losing head coach Luke Fickell to Wisconsin hurts, but losing 12 commitments since November makes it a pill that is even harder to swallow. There was a time not so long ago when Cincinnati was ranked in the Top 25 of most recruiting sites' team rankings for the class of 2023, but they are now outside of the Top 50 and have just 10 commitments left in the class. Nine of those commitments had signed their LOI's and there is certainly a need for the Bearcats to go out and add some more pieces to the class. Cincinnati's 2023 class ranks 80th according to 247Sports, which would put them dead last in the Big 12 as they enter the conference for the first year. The one bright spot for Scott Sutterfield and company is that the Bearcats landed quarterback Emory Jones in the portal on Wednesday, and will at least have that position locked down heading into 2023.
Baylor Bears
Baylor got off to a rough start on the morning of early signing day as their top commitment, four-star quarterback Austin Novosad, announced that he was backing out of his year-long commitment to the Bears and heading to Oregon for the next three to four years. The move knocked Baylor from 24th in the national recruiting rankings, down to 31st. Unfortunately, Dave Aranda and his staff were so confident in Novosad's commitment that they didn't have a backup plan in place for this class and will be forced to look at the transfer portal to fill the void left. Of Baylor's 21 high school commits, 19 signed on Wednesday, led by four-star offensive tackle Isaiah Robinson and four-star cornerback Tay'Shawn Wilson.
Oklahoma State Cowboys
Since 2017, the Oklahoma State Cowboys have ranked somewhere between 29th and 40th in the composite recruiting rankings. Since 2005, when Mike Gundy arrived in Stillwater, the Cowboys have never been worse than 45th (2016) and signed the No. 18 class in the country in 2006. However, in 2023, things have fallen off dramatically for the Cowboys on the recruiting trail, as Gundy and company currently sit at No. 61 in the latest rankings. That puts OSU at ninth in the current Big 12 and only ahead of Houston (No. 63), BYU (No. 71), Kansas (No. 74), and Cincinnati (No. 80) in the new-look Big 12. I'm not too sure of what is going on in Stillwater, but after the mass exodus that we saw in the portal this month, Oklahoma State needs to add some guys and in a hurry. If not, the Cowboys could risk losing the consistency that has made it one of the best teams in the Big 12 over the last decade and a half.