Baylor Bears
Big 12 Football: Head Coaching Grades for the 2022 Season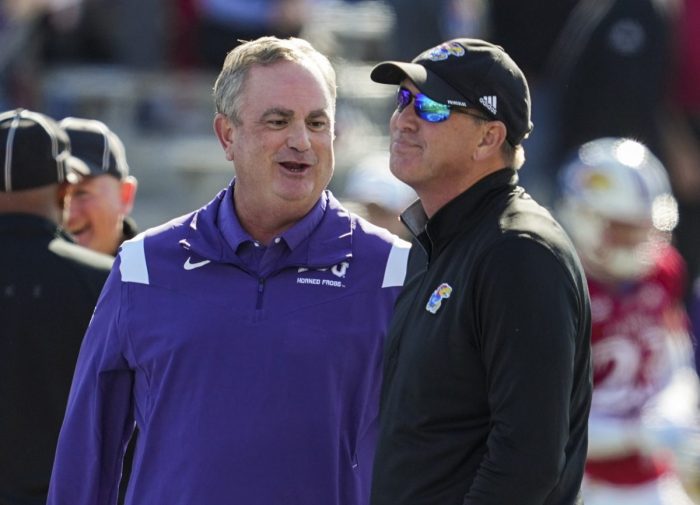 With college football ending soon, it is time to go back and review how these head coaches did this past season. I was never much of a student myself, but I am familiar with how grading works. Instead of being the student, I will be the one handing out grades this year, and let me just say, some of these coaches in the Big 12 need some help.
TCU HC Sonny Dykes
Record: 12-1
Grade: A+
This one was easy. Sonny Dykes came into Fort Worth and turned TCU into a winner from the jump. The Horned Frogs came out of nowhere this season, and he helped Max Duggan go from a backup quarterback to a Heisman finalist. TCU's work is far from over as they will face Michigan in the playoff but even if they lose, Sonny Dykes is a winner in my book.
Kansas State HC Chris Klieman
Record: 10-3
Grade: A+
Much like Sonny Dykes, this one was easy for me. Kansas State is fresh off its first Big 12 title in ten years and is its first since Bill Snyder was roaming the sidelines. Many wondered if Chris Klieman would be a good fit for Kansas State and he has proved to be the man in Manhattan. Klieman now belongs in the upper echelon of Big 12 coaches.
Kansas HC Lance Leipold
Record: 6-6
Grade: A-
I would never give a grade this high for a coach who finished 6-6 but this isn't just any program. Kansas has been a bottom feeder for years in the Big 12 and they haven't been competitive in forever. Lance Leipold changed that in just his second season as head coach. He made Kansas competitive and is taking them to their first bowl game since 2008. This man deserves some praise for a job well done.
Texas HC Steve Sarkisian
Record: 8-4
Grade: B+
I know 8-4 isn't where Texas wants to be, but it is a big step in the right direction from their 5-7 record a year ago. The Longhorns were in the Big 12 title race all season long and were just a game shy of a Big 12 title game appearance. The next step for this program is to get to Arlington and win a Big 12 championship.
Texas Tech HC Joey McGuire
Record: 7-5
Grade: B+
Who had Texas Tech finishing fourth in the Big 12 Conference this year? Not me. Texas Tech was picked to finish near the bottom of the conference back in the preseason and all Joey McGuire did was prove us all wrong. I had my doubts about him as a head coach and he certainly squashed all those doubts this season. I am excited about the future of Texas Tech football which is something I haven't said in a very long time.
Oklahoma State HC Mike Gundy
Record: 7-5
Grade: C+
I had much higher expectations for this team, but they were truly disappointing this season. The defense had a massive drop-off and the health of Spencer Sanders proved to be the downfall of this team. While they had some injury trouble this year, the coaching staff failed to make any kind of adjustments. Whenever their key players were out, they were getting blown out in ballgames. I am not used to seeing that from this program which has been one of the most consistent programs in college football. Hopefully, we see some changes made after the bowl game.
Baylor HC Dave Aranda
Record: 6-6
Grade: C-
To say I am disappointed in this team would be an understatement. I had high expectations for Baylor this year and I thought they could compete for a Big 12 title. They had games where they looked like an elite team and games where they looked like a 6-6 team which is exactly where they ended up. This team is way too talented to finish the regular season with six losses.
Oklahoma HC Brent Venables
Record: 6-6
Grade: C-
Since he is a first-year head coach I am going to cut him a little bit of slack but not much. Oklahoma isn't a place where 6-6 is acceptable. In fact, that is the worst record since 1998 which is pre-Bob Stoops. This team had little fight in them and kept finding new ways to lose football games. And on top of that, they were extremely undisciplined. Things better change quickly in Norman or else Brent isn't going to be the coach there for very long.
West Virginia HC Neal Brown
Record: 5-7
Grade: F
I keep waiting and waiting for this program to take the next step under Neal Brown and it's just not happening. In fact, one could argue that this program is getting worse under Brown who will be going into his fifth season as the head man in Morgantown. If not for the money owed to him, he would have likely been fired after the final game of the season.
Iowa State HC Matt Campbell
Record: 4-8
Grade: F
You can say what you want about Matt Campbell. I still think is a great football coach, but I cannot give a good grade for a 4-8 record. There is no way this team should go 1-9 in Big 12 play. I know they had a lot of pieces to replace but this season ended up being a disaster offensively. The good news is that they already made changes which should help.