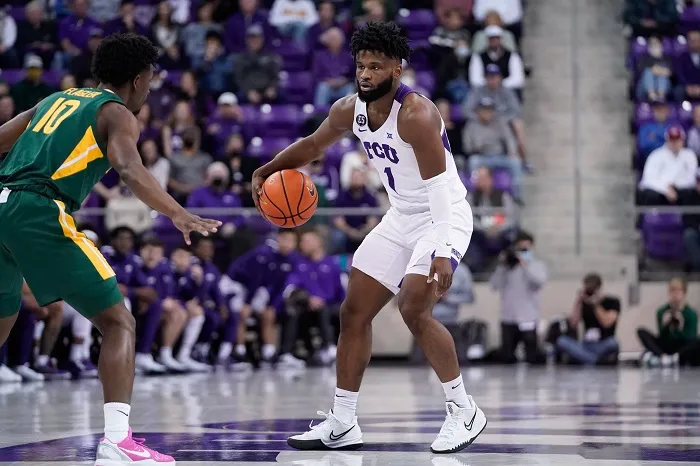 TCU's game with Utah on Wednesday night is part of nine games in the Draft Kings Daily Fantasy Sports pool for men's college basketball.
This season, when Big 12 games are part of the pool at Draft Kings, we'll provide our recommendations for who to take that night. In this case, the recommendations are for a Classic game, which features eight players — three guards, three forwards, and two guards/forwards (utility). The lineup must contain players from at least two different games. The salary cap is $50,000.
The goal is to fill out a complete Big 12 lineup. On nights when there is just one Big 12 team in the pool, we will fill out the remainder of the lineup with players from the rest of the pool of games.
Here are Wednesday's recommendations:
Guard: Mike Miles Jr. ($7,200)
The choice here is between Miles and Damion Baugh. The difference is $1,800 in cap space, and Baugh is the more expensive option right now, even though the two players' fantasy points are practically identical. The difference is Baugh pulls in more rebounds and dishes out more assists than Miles at the moment. But, Miles is the guard that can blow up at a moment's notice. I'll save the money and hope Miles has one of those games.
Forward: JaKobe Coles ($6,000)
So here's a boom-or-bust pick. Emanuel Miller has been up-and-down thanks to injuries. Center Eddie Lampkin Jr. is questionable. When Lampkin didn't play on Sunday against Mississippi Valley State Coles had 12 points and nine rebounds in 18 minutes. Before that, he had just six points in nine minutes against SMU. He's had productive games against Power 6 teams — 23 fantasy points against Iowa last month. I'm banking that TCU won't want to push Lampkin too hard and Coles will get some of that playing time.
Utility: G Micah Peavy ($5,000)
He's the value pick and he's consistent. He's averaging 20.9 fantasy points per game this season and in his last five games, he hasn't dipped below 16 fantasy points. He grabbed 35.5 fantasy points against Iowa. You're locking in about 20 fantasy points and doing it on the cheap.
The rest of the lineup
With $31,800 left over, this is how I would fill out my lineup with the remaining games in the pool — St. John's at Villanova, Virginia Tech at Boston College, Michigan vs. North Carolina, Clemson at Georgia Tech, Notre Dame at Florida State, Alabama vs. Washington, Arizona State vs. San Francisco and USC vs. Colorado State (as of Wednesday morning):
G – Jeff Howard, Michigan ($7,800)
G – Devan Cambridge, Arizona State ($6,000)
F – Hunter Tyson, Clemson ($8,400)
F – Zane Meeks, San Francisco ($4,500)
UTIL – Hunter Cattoor, Virginia Tech ($4,800)
–
Scoring system: Point: +1 Pt; Made 3pt Shot: +0.5 Pts; Rebound: +1.25 Pts; Assist: +1.5 Pts; Steal: +2 Pts; Block: +2 Pts; Turnover: -0.5 Pts; Double-Double (Max 1 Per Player: Points, Rebounds, Assists, Blocks, Steals) +1.5 Pts; Triple-Double: Max 1 Per Player (Points, Rebounds, Assists, Blocks, Steals): +3 Pts
You can find Matthew Postins on Twitter @PostinsPostcard