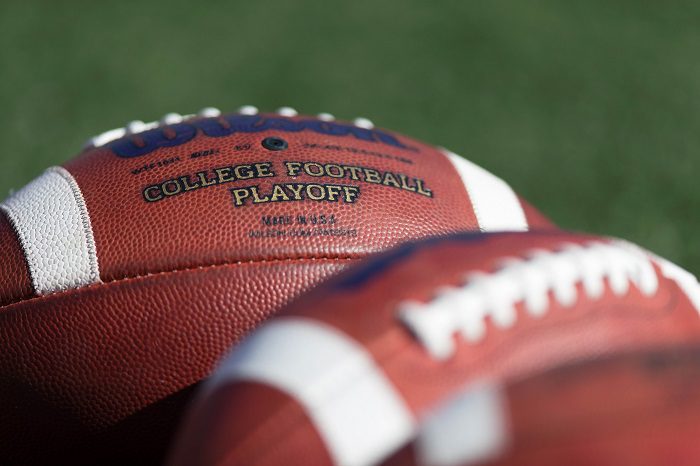 The coaching carousel for the 2022 college football season is already spinning, with hirings and firings coming throughout the season and beyond.
In the last carousel move, Navy elevated coach Brian Newberry to replace Ken Niumatalolo.
Mississippi State moved quickly to make its defensive coordinator, Zach Arnett, the new head coach in the days after the passing of Mike Leach. The move comes before MSU has hired a full-time athletic director. Also, Kent State hired Minnesota associate head coach Kenni Burns to be its new head coach.
Purdue hired Illinois defensive coordinator Ryan Walters to take over the program. The North Texas Mean Green hired Eric Morris, the former head coach at Incarnate Word who spent last season as the offensive coordinator at Washington State.
Also, Sacramento State coach Troy Taylor is taking over at Stanford. Scott Satterfield left Louisville to take over at Cincinnati, while Jeff Brohm — a former Cardinals quarterback and assistant coach — left Purdue to take over at Louisville. That was on the heels of Deion Sanders leaving Jackson State to take over at Colorado, while Barry Odom left Arkansas as defensive coordinator to take over at UNLV.
As of Dec. 22 there are 24 head-coaching openings in FBS and all are filled. There are no head-coaching changes in the Big 12 Conference.
Check here at HeartlandCollegeSports.com throughout the 2022 season and 2022-23 offseason for changes to head-coaching jobs in FBS.
2022-23 FBS Coaching Changes
ARIZONA STATE
Out: Herm Edwards; Shaun Aguano (interim)
In: Kenny Dillingham (Oregon offensive coordinator)
AUBURN
Out: Bryan Harsin (Carnell Williams, interim)
In: Hugh Freeze (former Ole Miss, Liberty coach, Nov. 28)
CHARLOTTE
Out: Will Healy; Pete Rossomando (interim)
In: Biff Poggi (hired Nov. 15) – Was Michigan associate head coach
CINCINNATI
Out: Luke Fickell (took Wisconsin job on Nov. 28)
In: Scott Satterfield (Dec. 6 – was head coach at Louisville)
COASTAL CAROLINA
Out: Jamey Chadwell (left to replace Hugh Freeze at Liberty)
In: Tim Beck (NC State offensive coordinator: hired Dec. 5)
COLORADO
Out: Karl Dorrell; Mike Sanford (interim)
In: Deion Sanders (left Jackson State, Dec. 3)
FLORIDA ATLANTIC
Out: Willie Taggart (Nov. 26)
In: Tom Herman (Dec. 1)
GEORGIA TECH
Out: Geoff Collins; Brent Key (interim)
In: Brent Key (hired full-time on Nov. 29)
KENT STATE
Out: Sean Lewis (left to join Deion Sanders' staff at Colorado)
In: Kenni Burns (Minnesota associate head coach, hired Dec. 13)
LIBERTY
Out: Hugh Freeze (took job with Auburn on Nov. 28)
In: Jamey Chadwell (was head coach at Coastal Carolina; Dec. 4)
LOUISVILLE
Out: Scott Satterfield (left to take over at Cincinnati)
In: Jeff Brohm (left Purdue as head coach; Dec. 7)
MISSISSIPPI STATE
Mike Leach died on Dec. 13. Defensive coordinator Zach Arnett was named the new head coach on Dec. 15.
NAVY
Out: Ken Niumatalolo (released on Dec. 11)
In: Brian Newberry (Navy assistant coach)
NEBRASKA
Out: Scott Frost; Mickey Joseph (interim)
In: Matt Rhule (Nov 26 – former Temple, Baylor, Carolina Panthers coach)
NORTH TEXAS
Out: Sett Littrell (Dec. 4)
In: Eric Morris (Washington State offensive coordinator, hired Dec. 13)
PURDUE
Out: Jeff Brohm (left to take over as head coach at Louisville)
In: Ryan Walters (Illinois defensive coordinator, hired Dec. 13)
&nbsp
STANFORD
Out: David Shaw (Nov. 26)
In: Troy Taylor (Sacramento State coach; reported on Dec. 10)
TEXAS STATE
Out: Jake Spavital (Nov. 27)
In: GJ Kinne (Dec. 1)
TULSA
Out: Philip Montgomery (Nov. 27)
In: Kevin Wilson (former Indiana head coach, Dec. 5)
UAB
Out: Bill Clark; Bryan Vincent (interim)
In: Trent Dilfer (Nov. 30)
UNLV
Out: Marcus Arroyo (Nov. 28)
In: Barry Odom (was Arkansas defensive coordinator; Dec. 6)
USF
Out: Jeff Scott
In: Alex Golesh (Tennessee offensive coordinator; Dec. 5)
WESTERN MICHIGAN
Out: Tim Lester
In: Lance Taylor (Louisville offensive coordinator, Dec. 8)
WISCONSIN
Out: Paul Chryst; Jim Leonhard (interim)
In: Luke Fickell (former Cincinnati coach – Hired Nov. 27)